How District Leaders Can Overcome Hurdles to Accelerated Learning
Student achievement is at the forefront of administrator goals, but administrators sometimes encounter hurdles when implementing a district's accelerated-learning program.
Months-long disruptions in learning have exacerbated inequities within our systems. Rather than reinforcing a loss of academic ground through remediation, accelerated learning uses strategies proven to help students work toward grade-level achievements.
Check out 3 ways to overcome well-known hurdles in any district leader's path.
3 Ways to Overcome Hurdles in Your Accelerated-Learning Plan
1. Look for trends in students' data.
Using formative-assessment data collected during the school day allows administrators to look at trends for a specific student, a particular classroom, or an entire grade level. They can then decide the best way to move forward.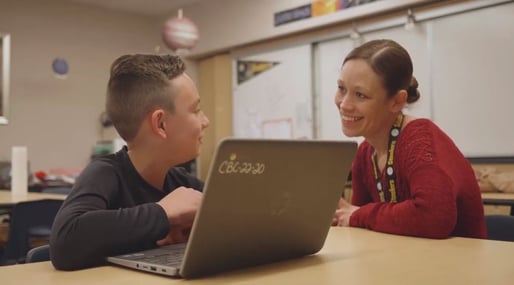 As part of Lubbock ISD's emphasis on effective use of data, Misty Rieber, Assistant Superintendent for Curriculum and Instruction, says the district has been relying on Istation's research-based intervention, assessment, and instructional platform for over four years.
"We use Istation in grades K-8," Rieber says, "using data from Istation's ISIP™ assessments to progress monitor our students, to report to our Board of Education, for coaching and PLC work with our principals and teachers, and as part of our reporting for the Teacher Incentive Allotment (TIA), which is a state program that compensates highly effective teachers based on student achievement and growth."
2. Mirror accelerated-learning programs that have been successful.
It's important to look at examples of school districts that have already successfully created and implemented accelerated-learning programs. Administrators don't need to reinvent the wheel.
Pinellas County schools created an accelerated learning framework buoyed by educational technology. The district-wide implementation of this plan included digital e-learning components that aided educators in recovering students' lost learning and saving teachers' time.
The district was able to utilize Istation as their edtech provider to discover
best uses for actionable data
alignment for just-in-time instruction
plans for monitoring student progress and adjusting supports based on student results
While the entire state dropped two points in its fifth-grade ELA/Literacy assessment by the end of the school year, Pinellas County gained a point, proving the district's plan was effective.
3. Allocate current ESSER funds toward acceleration strategies and professional development.
Cost concerns could be an issue when implementing your accelerated-learning program. By allocating ESSER funds toward acceleration strategies and professional development, administrators can ensure that educators receive the best resources to help them reach their goals.
Professional development is key. A successful implementation cannot be done without the proper training for all stakeholders.
Within the ESSER guidelines, the US government has made recommendations on how these funds should be utilized. It is expected that up to 25% of funds being provided to state and local education agencies will be spent on addressing learning loss. This is where your accelerated-learning plans can fit in. Learn more about utilizing your current ESSER funding.
The key to moving out of the pandemic is forward advancement. Each stakeholder — administrators, school leaders, and classroom teachers — has a role to play when implementing accelerated learning. E-learning platforms like Istation's can help everyone work toward that unified goal.
Discover more about Istation's comprehensive tool to maximize your district's accelerated-learning plans.