Reading by 3rd Grade Can Predict Later Success
Honing reading instructional skills builds students' confidence and helps them embrace the challenge and later successes of learning.
"Research shows that reading skills at 3rd grade predict how well students will do in 8th grade, which is also a predictor for high school success," said Victoria Locke, Director of Research at Istation.
Locke further explained that students who are not reading well in 3rd grade are more likely to drop out of high school, while students reading above grade level in 3rd grade are more likely to enroll in college. These eye-opening statistics help us see why it's so important to develop readers at such an early age.
Use these four strategies to create a classroom experience customized to meet students' instructional and intervention needs.
4 Blended Learning Strategies to Build Readers by 3rd Grade
Blended learning strategies have become widespread in classrooms and the remote learning environment. These strategies make the best use of teachers' skills and the technology tools at their disposal.
1. Utilize digital formative assessment tools to identify skill gaps.
Digital formative assessments aid classroom teachers in quickly identifying which students need specific instruction and interventions. This strategy works for all levels or tiers of learners.
Formative assessments are easy for teachers to use on a daily basis as a check-in tool. Teachers at Unity Primary in Houston, Texas, routinely checked Istation reports and used them to guide their instruction and provide feedback to students regarding their reading and writing growth. The school made use of Istation's formative assessment tool for identifying their early learners' progress and what teachers should focus on.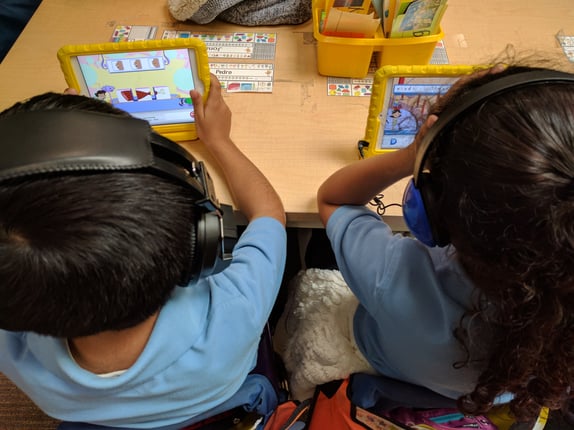 First graders from Unity Primary School in Houston take Istation's digital reading assessment.
2. Personalize reading instruction based on assessment results.
With differing reading ability levels and needs in your classrooms, it can be hard to find the right balance between following your school's chosen curriculum and giving students personalized attention. Modern tools like Istation can offer students personalized learning paths that meet their academic needs based on assessment results. No two students work along the same instructional path. Students can even access their personalized path at home.
Unity Primary teachers became pros at differentiating instruction to help their young readers succeed academically. In an incredibly diverse community, Unity Primary understood the importance of personalized learning for each student. Differentiated instruction through online practice allowed students time to practice the reading skills they struggled with the most.
3. Develop small group rotations that focus on appropriate student interventions.
Small group rotations are a great time to perfect reading skills and make sure each student is getting enough facetime with their teacher. Sandy Smith, former educator and Istation's Early Reading Product Manager, said she realized early on in her teaching career that pulling small groups was the only way to make sure all students in her class were getting what they needed.
"A lot of teachers at our school create rotations in the classroom," said principal Christine Prescott of Rio Grande, New Mexico. "They teach whole groups and the curriculum we are required to teach to every grade level, and then they have rotations, and Istation is a big part of the rotations, especially for our K-3rd graders."
Watch the video to see how Prescott and her teachers use Istation's digital curriculum within their blended learning program.
4. Monitor student progress while adjusting interventions and instruction.
Monitoring progress is key. Teachers get the information needed to target skill gaps with their lessons and later reevaluate what's working and what's not.
Istation's progress-monitoring tools allow teachers 24-7 access to data reports that will pinpoint where individuals and groups of students are working. Teachers can update their instructional plans the minute they see a student has a complete understanding of a particular skill they are working on.
Implementing blended learning strategies in classrooms at your school or district strengthens early learner's reading skills, which are so important in developing proficient, lifelong readers.
Discover more about Istation's blended learning resources for your school or district here.