Accelerate Students' Reading Skills through Proven-to-Work Best Practices
The number of students reading at grade level has been declining for years. The pandemic only intensified this situation as schools were forced to close, leaving teachers and students with no other choice than to adapt and take their instruction online.
School and district leaders now look for ways to accelerate learning for students and are turning to what's proven to work time and time again: the science of reading.
How to Put the Science of Reading into Practice
Accelerating learning is not an easy task, which is why we are breaking down four steps for district and campus leaders that will help you align literacy instruction to the science of reading.
1. Choose a curriculum that supports the science of reading.
A curriculum that is aligned with the science of reading must contain both evidence-based elements of reading and evidence-based teaching principles. This type of literacy instruction should focus on the Big Five essential components of reading: phonemic awareness, phonics, fluency, vocabulary, and reading comprehension.
Istation's digital reading program is based on scientific evidence and measures the Big Five. Our curriculum focuses on direct, explicit teacher methods for both primary and secondary learners in one seamless platform for assessment, instruction, and intervention.
Learn more about Istation Reading for your school or district.
2. Frequently provide formative assessment to all students.
A quality reading program contains frequent diagnostic assessments targeting key areas of literacy. These assessments should be engaging for students and consistent across time to demonstrate progress and growth.
Additionally, assessments should be cumulative, testing students on various concepts they've learned over time. The goal is to obtain a holistic, comprehensive, and targeted view of how each student is performing and growing.
With Istation, students are engaged with game-like assessments that don't feel like a test. These assessments save teachers time by automatically screening students in 30 minutes or less at the beginning of every month.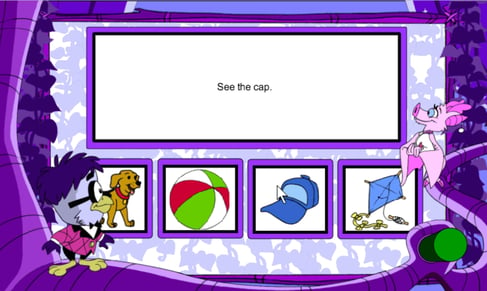 Istation's digital reading assessments offer engaging, interactive screeners for students to show exactly what they know and where they need help.
3. Make sure teachers have access to actionable, real-time data.
After assessing an entire classroom or grade level, educators should be able to look quickly at data reports to plan what's next in their instruction. When looking at reports, school and district leaders can ask themselves several questions to guide planning:
Can my teachers easily understand these reports?
How are students grouped for instruction?
What type of intervention resources are available after assessments?
Personalizing data is what Istation does best! We believe that data should be easy to access and simple to understand. Personalized data profiles for every student include performance and progress indicators for each specific literacy component. Reporting can be viewed at the student, classroom, school, or district level. Educators can use these reports to reflect on and improve their small- and whole-group reading instruction.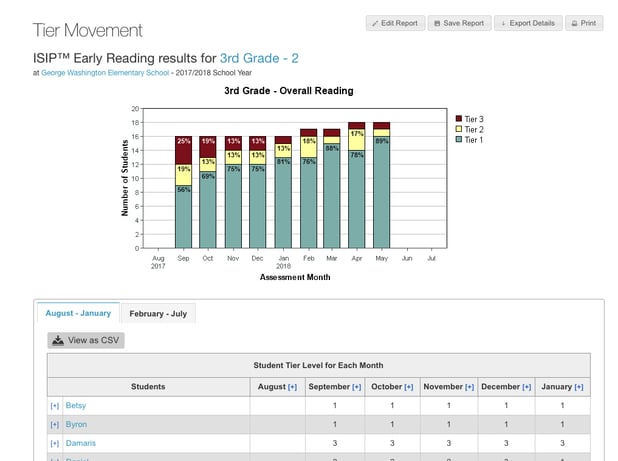 Istation's Tier Movement Report provides a detailed look at students' tier levels. This information can be used for leading interventions.
4. Offer ongoing professional development to district and school personnel.
When it comes to effective reading instruction, having a curriculum rooted in science is only half of the equation. It is equally important to ensure that educators on your campuses are adequately informed on best practices for putting the science of reading into their instruction.
Program providers like Istation offer several different types of professional development opportunities for educators. Sessions can be conducted in person or virtually, providing schools with customizable content ranging from informational sessions on the science of reading to technical training on navigating the program's digital resources. Istation's professional development is interactive and hands-on, and it incorporates science-backed approaches that help schools succeed.
We encourage you to empower your educators to take their reading instruction to the next level and set your students up for success all year long!
Check out our recent webinar "Putting the Science of Reading into Practice," where we discuss ways to put the science of reading to work in your schools. Register to watch on demand.