As the semester is winding down, educators, students, and parents are starting to make plans for the summer. Research shows that summer learning loss happens, often called the "summer slide." There is also research that shows it can be prevented.
Students may lose up to two whole months of reading proficiency during the summer when they are out of practice. Teachers and parents may feel pressure to keep up with the rhythm of learning over the summer, though they have less time and resources at their fingertips. Even with a summer school program in place, the school day is shorter, which can decrease the impact that skills practice might otherwise have.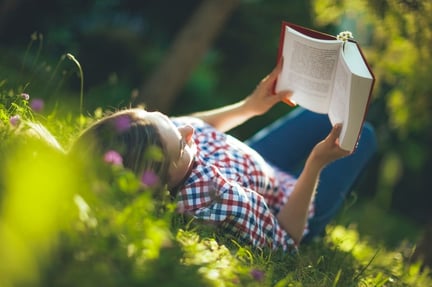 A HuffPost article by Istation COO and President Ossa Fisher discusses a few ways to prevent summer slide. Consider applying her tips below to your own summer.
Make it Personal: When parents read, it's important to "show, not tell." If you personally take time to read, it sends a clear message to your kids that reading is an important part of everyday life. Sharing with your children what you are reading, and why you are reading it, helps them appreciate what you are doing and why it deserves your attention.
Make it Social: Literacy skills are certainly gained through the independent act of reading alone, but there are many social games that help make vocabulary and comprehension feel more like a sport. Scrabble, Boggle, and Trivial Pursuit are old favorites. There are also newer digital games available such as Stack the States, digital Crossword Puzzles, and Duolingo.
Make it Verbal: Summer is often filled with long car rides or plane flights to get to various summer holiday destinations. Use the time to play rhyming games, invent stories about where you are going, or ask interesting questions about the people you meet along the way. These questions and the associated answers form a narrative that aids kids in developing comprehension skills.
Make it Recognized: Try to find a way to recognize how much your child is reading throughout the summer and acknowledge that with some sort of celebration at the end of the break.
Make it Communal: Share your knowledge and love of reading with the community. You might choose to volunteer at the local library or donate old books to local community centers. Even spreading the word about Summer Slide will help others be more informed in their choices.
Istation partnered with several local Dallas organizations during past summers to help young learners maintain literacy skills through the use of Istation Reading as well as small-group tutoring sessions.
Data from program partners showed 72% of students participating in this summer program did not experience summer learning loss. Additionally, 69% of participating students stayed on grade level or had significant growth. To top it all off, 53% of participating students gained at least two months' worth of reading ability, reversing the summer slide trend!
Istation offers districts and schools the perfect summer school tool with on-demand progress monitoring and printable teacher resources tied to individual skill reports. Struggling readers in any grade can benefit from Istation this summer!
Click below to find out more about how you can start piloting Istation during summer school. Try out Istation and stop the summer slide!