Support Students' Social and Emotional Learning During Reading Instruction
In a landscape of remote, in-person, and hybrid models of teaching and learning, educators must find creative ways to foster social and emotional learning (SEL) skills when delivering classroom instruction.
Developing strong SEL skills among students remains a top priority for schools all over the country. These skills help students manage stress, make responsible decisions, maintain healthy self-esteem, and much more.
During classroom instructional lessons, students have the opportunity to make meaningful connections and build upon SEL competencies. There are thousands of digital tools and flexible resources out there for educators to access throughout their day. With resources like Istation's teacher directed lessons (TDLs), educators can embed SEL skills into their lesson plans in ways that feel natural and purposeful.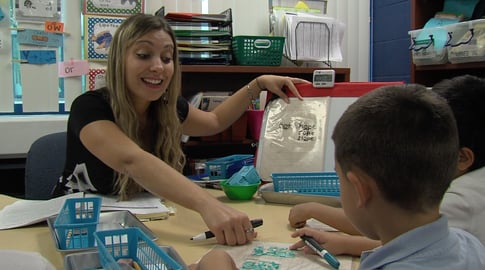 Help your school's teachers support SEL in their reading instruction with these 5 strategies!
Discover 5 Ways Educators Can Support Social and Emotional Learning During Reading Instruction
1. Analyze emotions together as they come up throughout the day.
Throughout the school day, students encounter emotions in what they are reading and in how they are interacting with others. They also start each day experiencing emotions that they bring from home and their personal lives. It's important to discuss these emotions as they come up.
Take the opportunity to discuss a character's feelings from a book or passage and ask questions:
How did those emotions affect the character's relationships?
Were there any outcomes that happened specifically because of the emotions?"
Students will gain insight into how emotions affect characters' lives, which will make it easier to reflect on how their own emotions impact the world around them.
2. Have students journal and respond to open-ended prompts.
You play a vital role in encouraging students to express their emotions through writing. Ask them to write about how they felt when completing the lesson (e.g., successful, challenged, frustrated). Ask them to respond to open-ended questions that require reflection:
What areas of this topic would you like to learn more about?
What did you notice when [event] happened?
How did [SEL skill] contribute to your success during [event]?
3. Assign collaborative work assignments.
It's a good idea to include assignments throughout the week that lend themselves to cooperative groups, allowing students to develop relationship skills. Work these assignments into the day's lessons effortlessly so students won't think twice about collaborating with others.
Within each of Istation's TDLs, there is an Independent Practice section for students and teachers to utilize. You can use these printable lessons during a practice assignment or as an activity in a center. Students can work on completing this on their own, with a partner, or with a small group. The activities push students to demonstrate responsibility, problem solving, and/or decision-making skills.
4. Encourage student-led discussions, interactions, and teamwork.
Just because we live in a digital age doesn't mean role-playing has no place in the classroom. Use role-playing to kick off a reading lesson where characters will be acting a certain way. Share examples of what successful collaboration among others looks and sounds like. Include some counterexamples to demonstrate the type of interactions to avoid. These activities will help prepare students for real-life social interactions as well.
There is an independent practice TDL game that Istation offers called "Go Fish for Homophones." In this game students identify homophones while building relationship and communication skills. Games like these provide a perfect opportunity for you to allow students to take the lead on classroom discussions.
5. Monitor progress in a way that includes the student.
There are so many ways to include students in monitoring their own skills. Teachers have a chance to boost engagement when they make tracking growth a priority in their classrooms. Students can monitor their own progress with visible charts, tracking notebooks, or online data dashboards.
Digital progress-monitoring programs like Istation give students the opportunity to see exactly how they are doing when they finish an assessment or lesson. Teachers and students can work together to set goals and reach them within the platform.
Istation has created a few FREE resources to use in your schools' classroom:
Find more resources for download at Istation's Online Store.
To take things one step further and learn how to foster SEL skills using the technology tools at your fingertips, watch the on-demand webinar "Build Social-Emotional Learning Skills with Blended Learning."