Reading by the 3rd grade is the most important predictor of high school graduation and career success. —Annie E. Casey foundation, Early Warning Confirmed 2014
The Story Behind Catch Up & Read
Catch up & Read (CAR), started in 2009 by Catherine LeBlanc, aims to establish a strong foundation for academic and lifelong success. CAR uses a three-pronged approach:
Teacher training focused on research-based literacy practices maximizes results for current and future classrooms.

After-school tutoring delivers individualized lesson plans in small, teacher-directed learning groups with a technology component.

Collaboration with school leadership achieves campus-wide literacy improvement.
The passion to empower leaders in education was LeBlanc's catalyst to provide outstanding professional development for DISD instructors. CAR equips educators to use Istation, a research-based reading assessment and intervention program, in their classrooms throughout their day and in after-school settings with small groups of at-risk students.
How CAR Sets Up Students for Reading Success
The after-school tutoring starts with a nutritional snack and vigorous physical exercise. The snack boosts students' energy levels and the exercise also helps activate students' brains for learning so they can stay focused during the lesson. Research shows us that low-performing learners need repetition to master a concept. Sometimes they need to hear things 10 or more times before it becomes a memory, which is why after school small group time is needed. Teachers deliver a read aloud and talk with students about what happened in the story.
Helping students develop and then access background knowledge is key. Teachers are looking to help students make connections in their real lives to things they are learning. During the vocabulary and whiteboard sessions, students are allowed to be more interactive by participating in small-group discussions.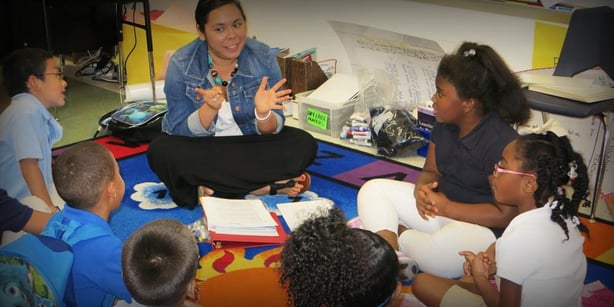 The Progress-Monitoring Process
Monthly diagnostics are the best tool for data-driven instruction. This is where Istation comes in. Students use Istation to practice in the skill areas where that they are lacking. Teachers use Istation's data to level students by tier and then group them together for the small-group interaction.
In the 2015-2016 school year, 93 percent of CAR students improved their reading proficiency. Those who made progress were 22 times more likely (than non-CAR peers) to advance to Tier 1 reading proficiency. CAR students have shown improvement in reading proficiency at a rate of three times that of their non-CAR peers.
Tune in tomorrow to see how CAR is providing Bayles Elementary School with the blended learning tool they need.
Read the full report on Catch Up & Read's exciting results here: