Holistic intervention strategies that target individual students' needs in Title I schools are crucial to improving achievement. Alabama's Hoover City Schools successfully served the needs of Title 1 students and found they could streamline the process as well.
They implemented Istation Reading and Math for the programs' monthly assessments and targeted, individualized resources. As a result, Director of Federal Programs and Testing Debra Walker Smith, PhD, noticed that her Title I team was able to serve more student than ever before.
"Students were going back into the general education classroom and were being successful, so we were able to serve additional students — more than we had in the past," Smith said.
Meet the Title I intervention team from Hoover City Schools in Alabama!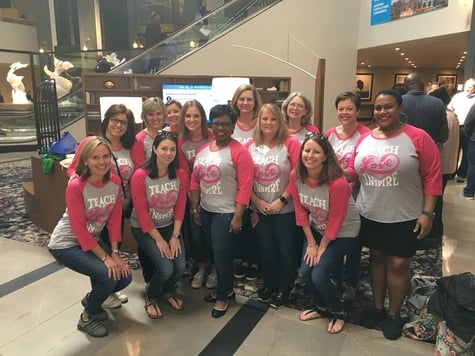 Front Row: Jennifer Norris, Margaret Stanley, Dr. Debra Walker Smith, Kelly Martin, Margaret Watts, and Alisha Wheeler
Back Row: Donna Walker, Sheila Burton, Rhonda Keeling, Michelle Reid, Donna Houston, Teresa Capra, and Stephanie Prevatte
Hoover City's interventionists especially liked that Istation aligns to Common Core State Standards and supports diverse instructional approaches. Istation's nationally normed assessments, or ISIP™ (Istation's Indicators of Progress), measure student growth and provide teachers with resources for intervention lessons with small groups of students.
"Students enjoy working on Istation," Smith said.
They love the interactive lessons and fun characters. Mostly they feel like they are playing a video game instead of working on reading and math skills. A thrilling part for Smith and her team is watching the light bulb click on when students get through a series of lessons that helps them make progress.
Smith and her team explore how to build an effective intervention strategy in a webinar about successfully serving the needs of the district's Title I students. The Title I team discusses how they supported school leaders, teachers, students, and parents and introduced new and effective intervention practices that have improved student achievement.
Interested in learning more about how quickly students progressed with Istation? Read the full story below.