By Diana Boor and Michael Benson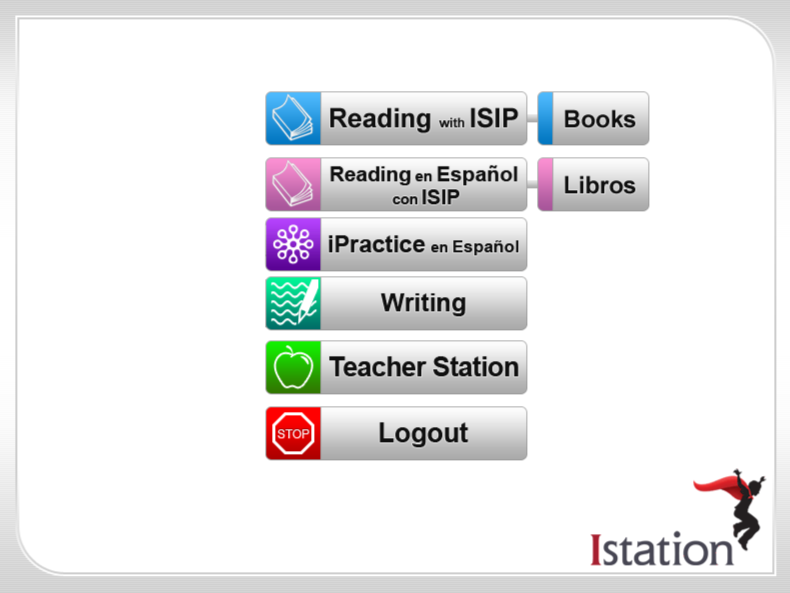 Do you know about the wealth of content and resources Istation offers to teachers? Did you know you can log in through the Istation icon on your desktop with your teacher credentials? In addition to the valuable data and teacher-directed lessons found at www.istation.com, teachers can get a personal glimpse into students' Istation experience. By logging in through the desktop Istation icon, teachers can access much more amazing, interactive, and engaging content.
After logging in, teachers will see a menu featuring Reading with ISIP™, Books, Reading en Español con ISIP, Ipractice en Español, Writing, and Teacher Station. These choices will vary based on the school's subscription.
The Reading with ISIP button allows you to familiarize yourself with the assessment and instruction from a student's perspective. Istation recommends that teachers personally take the ISIP Assessment prior to their students' first assessment. After finishing the assessment, you will be seamlessly placed into the instruction based on your score—just like the students! Next to the Reading with ISIP button is the Books link. By clicking the Books button, you can access all the books used throughout the Istation instruction. The books are organized by cycle and are labeled with the skills they cover. Each word in the book can be selected to hear its pronunciation. Students can read along with the book on the screen or follow along with a printed copy.
The Writing button will take you to the Writing Rules! lessons. Students can explore the six traits of writing with Istation's character Calvin Cool. Calvin, a tech-savvy author and writing coach, guides students through various lessons explaining the reasons to write and why it is important to develop writing skills. Students will learn about each of the six traits that serve as the foundation for writing in the narrative, expository, and persuasive genres. Calvin will also show students model writing samples, checklists, graphic organizers, and student-friendly rubrics to enable them to evaluate and revise drafts before creating a final copy. Students will be able to reinforce what they have learned about paragraph building and essay writing in the Writing Rules! section when they log in through the desktop icon.
Teacher Station is an interactive and engaging bank of lessons that can be used in whole-group, small-group, or individual instruction. The lessons in Teacher Station are cross-curricular and can be used to supplement your curriculum in a variety of ways. These lessons include early reading, advanced reading, science, and writing. The lessons can be projected onto an overhead screen or interactive whiteboard for use as mini lessons, reteach lessons, small-group lessons, computer activity during work station time, partner activities, and in any other way you can think to use them.