Hey hey, folks! Calvin Cool here giving a shout-out from the Istation café.
What's my game, you ask?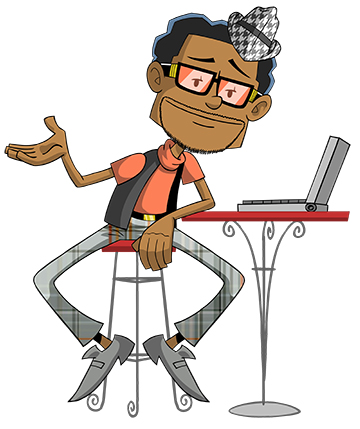 I'm a musician at heart and a writer by trade. By night I jam on the bass with a jazz quartet called the Misquoted Notes. By day I'm a writer and blogger. You can find me tapping away on my laptop any place that offers choice espresso and free Wi-Fi. Café ambience helps me channel the creative energy I need to generate primo compositions. When working, I sometimes like to chill a bit and chat up a few fellow writers or coach students who need help with their writing online.
Today I'm here to spread the news about Istation's latest — and greatest, if I may say so myself. I have joined the far-out cast of characters at Istation with a new interactive online writing program called Writing Rules! The name is not just a true statement, it's also a program that incorporates the so-called "rules" that excellent writers follow. #WritingIsCool
Here's the 411 on Writing Rules!
In Paragraph Building, I coach students on the traits of effective writing. In Essay Writing I guide students through the challenging steps of the writing process. When students log on, they join me in a cybercafe where we explore ways to improve our writing in a fun and relaxed way. I go beyond basic rules to explain the benefits of writing with a purpose. With my help, students learn to share ideas with their peers as well as their teachers. There's no snoozin' in my virtual classroom; I do my best to keep students engaged and make them feel successful. Because we all know that when young writers feel successful, they become successful! #KeepinItRealInTheClassroom
Students have some stellar advantages to using Writing Rules! They can pace themselves over multiple class sessions or work at home to develop their writing portfolios. This flexibility is not only ideal for the struggling writer, but it also makes the program perfect for flipped classrooms, project-based learning, and blended instruction. #21stCenturyLearning
Speaking of teachers, we didn't forget about you fabulous folks. Writing Rules! also offers support with online teacher-directed lessons (TDLs) that can help you coach a single struggling student or an entire classroom of kids using an interactive whiteboard or simple projector. These TDLs are built to help you guide the struggling writer with focused skills lessons in both Paragraph Building and Essay Writing. Additionally, we provide holistic grading rubrics to aid with student assessment. Instead of juggling stacks of paper assignments, you can review student work online using these skills-correlated rubrics. What's more, in Essay Writing you can monitor assignments from planning to publishable drafts online, making your assessment of student work a cinch. Think of all the free desk space you'll have! #ThatsHowIstationRolls
Until next time, folks! See you on the flip side!
–C.C.
To learn more about "Writing Rules! with Calvin Cool," visit www.istation.com or contact your Istation representative.