Istation staff has spent more than a millennium in the classroom!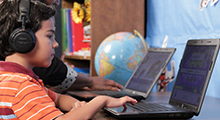 We're feeling quite proud and maybe a little ancient around the Istation office today!
In honor of National Teacher Appreciation Week, we polled the Istation staff to calculate how much teaching experience exists among our employees.
We can't believe it!
We have a combined 1,023 years of classroom experience on the Istation team! That's more than a millennium!
Former teachers make up over a third of our staff. All of our curriculum writers, trainers, and implementation specialists taught school before coming to Istation. Most of our sales team did too. So when we say we are an educational company built by teachers for teachers, we really mean it!
Teaching is not just a job. It is a passion. Today and every day we celebrate those who share our passion!
Happy Teacher Appreciation Week! Please #ThankATeacher!