I have people visiting my classroom today to see how and why it is different than most. I am always looking for ways to evolve as a teacher and to give students the tools they need to be successful in the 21st century. I am fortunate enough to work for a district that supports and promotes exploration and lifelong learning. Two things were the catalyst for large changes in my lesson plans.
As someone who is socially conscious of a need to preserve resources and protect our environment, I wanted my classroom to be more environmentally friendly. I told my principal that I wanted to investigate how I could go green. This led me to experiment with new technology platforms. As our district began to increase its support of technology, I became so intrigued that I attended every training course I could find!
The second catalyst was a discussion with my husband. I asked him what his company needed most from its employees. He informed me that the people at his work were highly intelligent and had great educations but lacked the ability to collaborate, communicate effectively, think critically, and be creative. After this discussion, I began to gather all the information I could on lesson models that would help my students gain skills in these 4 C's. That is when I began to discover problem-based or project-based learning. This model of teaching in the classroom changed my life.
Project-based learning has provided my students and me the structure and scaffolding we need to be successful as we work toward mastery of our standards. At the same time, it also encourages working on the 4 C's, which are critical for future employment.
When you walk in my classroom you will see students working in teams on a standards-based project.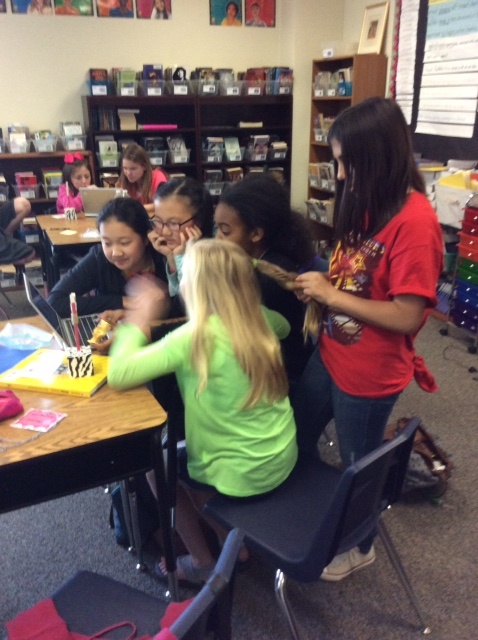 Project-based learning in my classroom
When a project challenge is issued, the teams come together to analyze the challenge brief and look for the driving question of the overall project, the requirements, and the standards-based rubric. From this analysis, they then create their "knows" and "need to knows" list. Their next step is to turn their "need to knows" into research-based questions. Everyone on the team researches each "N2K".
On subsequent days, teams come together to have a 5-minute team huddle to check-in with each other. Their goal is to make sure everyone knows what each member needs to accomplish to solve the challenge. If everyone is in agreement, they check out their team's supplies, do research, complete a D.I.Y. or attend "workshops."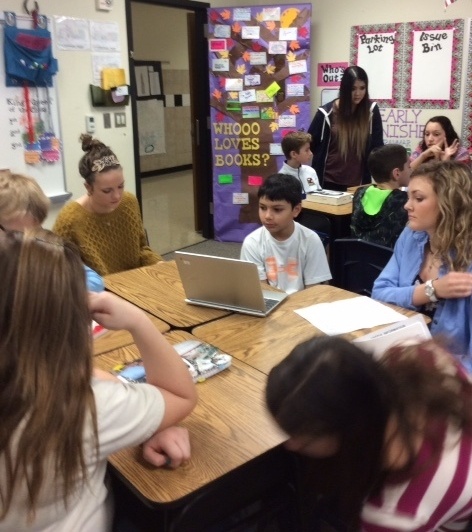 High schoolers came to "conference" with students about community service and persuasive writing.
I have become a facilitator in the room. I mingle in the room asking students how they are doing and keep a running list to make sure they are meeting deadlines. I also host workshops on standards or concepts for students who are struggling. Once these students attend a workshop, they have notes and a handout. This allows them participate with the team and to share their knowledge in this area if needed.
Since I pre-assess my students before every project on the standards that will be learned, I know who has mastery and who could use extra support. Additionally, I use technology to re-assess my students every month to monitor their progress in areas of that they have been known to struggle. Resources for my workshops can come from my own file cabinet or any other reliable teaching tool and helps me lead my students to new or higher understanding.
Once all research is complete and all standards have been met, I have all the grades I need in the grade book before they ever begin creating the final product. The students really like it that way because they know that whatever they create is being evaluated by a real world audience. They're much more excited about taking risks and doing their best.