Data boards are a great way for teachers to display classroom growth each month in Istation. Motivating students with rewards for meeting monthly goals encourages them to take ownership of their learning. Data boards can also help ensure a successful implementation by inspiring teachers and students to use a program with fidelity.
Emily Moore, an implementation specialist at Istation, has firsthand experience teaching elementary students. One of her main goals as an implementation specialist is to help teachers learn what is available to them with Istation's reading, math, and Spanish programs.
There is power in displaying student growth on the walls of the classroom. Are you looking for ways to motivate students to set and reach goals while trying their best? Check out the simple steps below that will help you create your own classroom data board.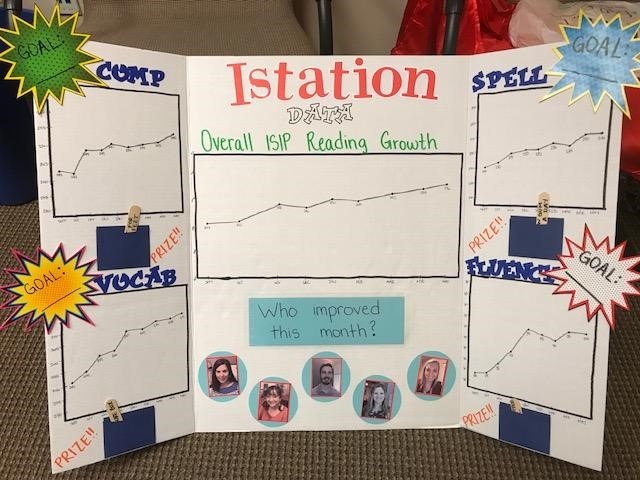 Step 1: Gather Materials
markers
colored paper
craft sticks with a variety of class prizes written on them (pictured to the right)
small paper pockets
one nameplate holder or sentence strip holder (self-adhesive)
decorative labels (optional)
stencils (optional)
pictures of students (optional)
Use a project board or available wall space in your classroom or hallway.
Step 2: Utilize Istation Reports for Graphs
How to use the Classroom Skill Growth Report:
Log in to your Istation account at www.istation.com.
Click on the Classroom tab at the top of the page.
Scroll down and click View Additional Reports on the left-hand side under Related Reports.
Select ISIP™ Reading as the product and select Skill Growth as the report.
Click Run Selected Report on the right side.
This report shows Overall Reading Growth by default. To show growth for each subtest instead, select Edit Report in the top right corner. Under the Options tab, click the down arrow next to the Skills section. To see your class average for the month, hover your mouse over each triangle on the graph.
Step 3: Motivate Students
Write monthly goals on the label for each subtest and change them monthly. (Tip: Laminate the labels for easy write-and-wipe!)
Write prizes on craft sticks and switch them out each month.
Display the names/pictures of students who improved over the month. Then switch out the inserted paper for something different if you like. (Examples: Who moved up a tier this month? Who worked really hard this month? Who completed all of their assignments this month? Who worked on Istation at home this month?)
Print out fun student certificates from the Istation website and store them in a folder for easy access. You can find the certificates in Teacher Resources under the Toolbox tab. Type "certificates" in the Search by Text box.
Other Data Board Examples: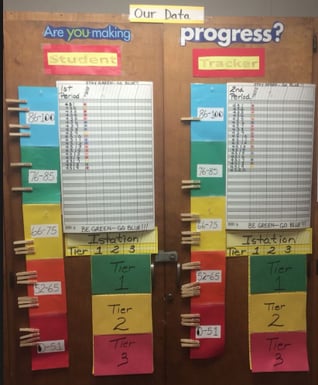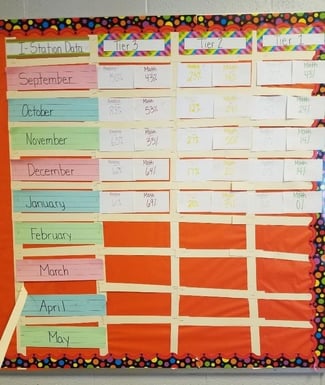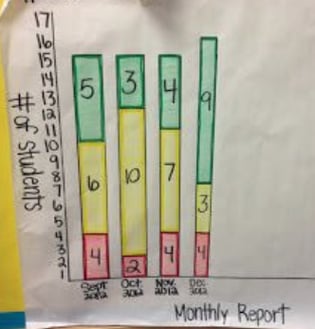 The printable version of Making an Istation Data Board is available here.
Get started with Istation reading, math, and Spanish in your school by contacting us today for a free demonstration!