When I first wrote about customers helping us plan for the future of our Web site, I emphasized that we care about customer input and making our Report and Management Web portal easy to use. As we move into summer, it is important to give you an update about what that looks like and how customers have helped implement Istation's new feature!
When you log on to the Report and Management Web site later this summer and into the 2017-18 school year, you will be introduced to a new feature called Istation Boards. The concept behind Istation Boards was arrived at by several different sources and over a period of time.

History Lesson
Our team that manages the Report and Management portal and delivery of student data to customers has been talking for some time now about 1) more effective ways to utilize the data we collect and 2) the desire to make our Web site easier to use. We can determine what the data details mean, so how do we prompt our customers to do something based on those details? How do we present the wealth of information we have in a clear, easy, cohesive way?
Other customer-facing teams began to discuss with us ways to help our customers get started more quickly and efficiently.
Amanda Centorbi, Digital Professional Development Specialist, said, "I used Istation as a classroom teacher for six years and honestly did not learn half of the resources available to me until I came to work for Istation. Our reading coach printed reports for us to have for our data binders because many of us did not even know we had accounts. Once I began working as an implementation specialist and talked with customers more and more, I realized this was a recurring theme. The steps for 'Getting Started with Istation' were not necessarily spelled out for teachers, and many were missing out on the most important parts of Istation: the curriculum and personalized data!"
We decided to bring together everyone relevant to development to create a common vision. We held stakeholder interviews throughout different customer-facing departments in the company, and these were some primary findings:
Everyone wanted customers to

use the Web site more

.

Educators

log in to our Web site primarily to

see how their students are doing

.

The number one concern was the

usability of the Web site

; it needed to be more

simplified

and

customized

.
Boards and Cards
One step in this direction is Istation Boards. Our first release of Boards includes over 70 cards that will be dealt throughout the year based on the customer's role and the time of year. These cards will help our customers:
Learn

what to do next.

Discover

new tips and tricks.

Gain deeper insight

into student data.

Explore

Teacher Resources.

Earn points and more!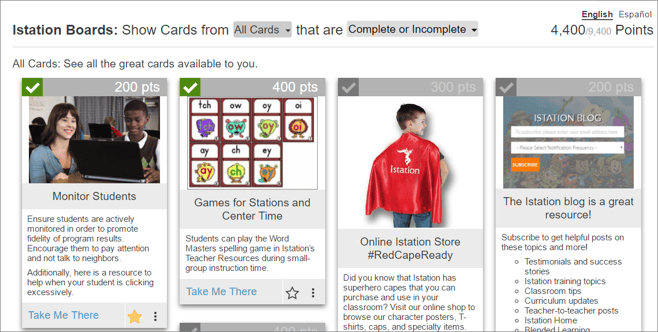 That's right! There are points associated with cards, and in a future release we will present how the points will benefit you. Until then, collect them as you can.
These are the goals for Istation boards:
Motivate users to log in.

Guide new users without being intrusive to experienced users.

Intentionally use student data.

Ease of use: Simplify the time spent on the Report and Management Portal.
"Cards take key Web site features and combine them with a customer's actual data," said Zachary Terry, Principal Software Engineer. "The result is bite-sized chunks of actionable information based on where the customer and their students are within the Istation experience. For example, a teacher will automatically receive a card that summarizes the value of a particular Istation report for their classroom along with a direct link to that classroom's report. "
The functionality and content has been influenced by a group of customers (BETA WINners) who provide regular feedback on new features. The response from this team has been informative and positive.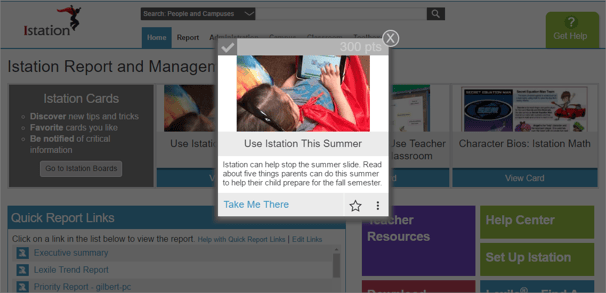 Kathleen Bender, Academic Coach at Powder Springs Elementary School, said, "I was honored to be part of the collaborative group called BETA WIN! Each month I was able to not only connect with other Istation users in different states but given the opportunity to share my own successes, challenges, and offer input to features I feel would be beneficial. Mindee Gilbert and her colleagues led this effort, and I loved being part of this process! Having my voice heard by such an impressive company was truly a wonderful experience. Shaping the features of the Istation Boards by providing feedback on the needs of administrators and teachers just shows how Istation is willing to commit to continuously improve their product by not only the needs of the students but the needs of educators! In fact, I so enjoyed working with this group that I hope it will lead to further opportunities to collaborate with others on using Istation."
We plan to continue developing this feature and adding more content and functionality throughout the year. For now, log in, complete cards, learn some new information, and stay tuned for more fun!
"Istation Boards represents a new focus for the Web site," explained Robert Rubin, SVP Technology/Business Process. "Through Boards, we suggest actions that are relevant to the teacher. We analyze data collected during students' activities in Istation, interpret the meaning of the data, and personalize recommendations for the teacher to act upon the data. By guiding teachers through using Istation, Boards make the Web site easier to use, and the addition of this feature simplifies onboarding."
If you have interest in being involved in conversations like those that contributed to Istation Boards, sign up for BETA WIN at http://www.istation.com/BETA.