Istation is excited to be a platinum sponsor of District Administration's Districts of Distinction program and highlight the honorees in the leadership development category.
Honorees in this category come from all over the country and have started initiatives to increase the capacity of district leaders, create pipelines, and improve school-level support and coaching.
In California, Desert Sands USD set up a Goldfish Bowl (similar to TV's "Shark Tank"), where teams made up of students and a teacher pitch new, innovative ideas that will benefit the district. Teams present twice a year to a panel of judges that includes successful entrepreneurs and local TV and radio personalities. The winning team is awarded $4,000 to implement their new plan. This initiative has had a profound effect on this district and its community!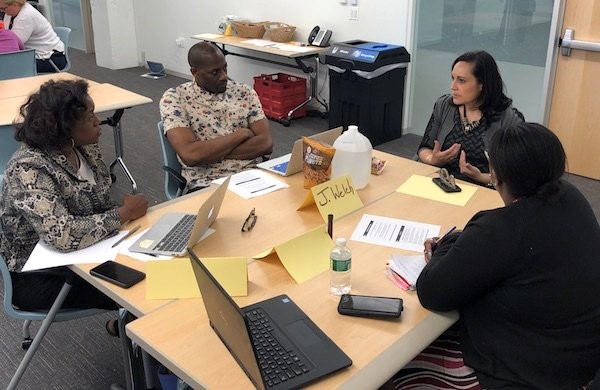 Educators at Arlington Public Schools meet to discuss initiatives.
Arlington Public Schools in Virginia is using employees in leadership positions as brand ambassadors. They created a pipeline that could produce diverse leaders from within their district. The Aspiring Leaders Cohort Program, college and university partnerships, job-embedded experiences, and the Latino Leadership Initiative allow principals, supervisors, and senior leaders to share their expertise. The results yielded a 40 percent return on investment.
Principals in Indiana's Metropolitan School District of Lawrence Township were each managing 60 to 70 employees and needed to expand their leadership without expanding staff. They turned to the D3 (Distributive, Dedicated, Dynamic) Framework to distribute leadership and help improve effectiveness. Classroom team leads divide their time between instructing students and coaching peers while receiving extensive professional development in both areas. Now one principal leads a team of six, and the district's teachers get to take on more of a leadership role.
Creating and developing leaders can have a huge impact on a district's success. Read more about each District of Distinction honoree here!