Istation is very excited to be a platinum sponsor of District Administration's Districts of Distinction program!
Today we highlight the 11 district honorees in the career readiness category for their homegrown innovations in K-12 education. Honorees in this category come from all over the country and have improved their students' outcomes and opportunities for the future.
Sioux City Community School District in Iowa created a career academy that offers students hands-on experience in 30 different career paths as well as college credit hours at no cost to their families. Maryland's Anne Arundel County Public Schools gave students a head start by making research based practices, college tours, and career days a priority through a program called AVID. Both of these initiatives have improved the districts' graduation rates.
California's Pomona USD partnered with a local university to offer students tours and counseling advice on steps to take before attending college. Perth Amboy Public Schools in New Jersey also partnered with nearby universities to offer a career-based communication academy with state-of-the-art facilities and technology.
Some districts worked closely with industry partners to provide students with new life and career skills. Center School District in Kansas started a program that offers business and technology, STEAM, human services, and teaching pathways. Florida's Lake County Schools revitalized their community's Construction Academy to offer students certifications in fields like carpentry, safety, communications, and customer service skills.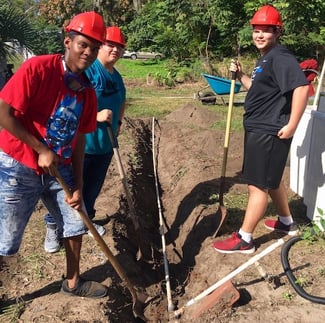 Building a future—With a constant need for workers in the local construction industry, leaders in Lake County Schools dug in and reinvested their efforts in the Leesburg High School Construction Academy with encouraging results.
A few other honorees offer students real hands-on experience in their chosen fields. In Illinois, Township High School District 214 started a youth apprenticeship program to help students gain skills needed for their chosen career pathways. Magazine School District in Arkansas gives students the chance to work with professionals in their field of choice.
Also in Illinois, Ridgewood High School District 234 offers a high-quality program in technology and manufacturing for students interested. Kentucky's Eminence Independent Schools offer similar opportunities for students to earn credits in technology fields as well as complete a year's worth of college credit by the end of high school. And lastly, Colorado's Westminster Public Schools has shown steady academic improvement from their efforts to move to an entirely competency-based model, leaving behind the traditional idea of grades and grade levels.
These innovative ideas inspire educators everywhere! The districts above have seen great success with the projects, initiatives, and partnerships they have in place.
Read more about each District of Distinction honoree here!