Sara Waller, a 6th grade language arts teacher at Trinity Meadows Intermediate School, is always looking for ways to enhance her teaching and give students the tools they need to be successful learners in today's digital age. Her district supports her exploration of teaching tools and promotes her being a lifelong learner along with her students.
It all started when Waller decided to go green. She wanted to preserve paper resources and help protect the environment. She also knew that employers seek out future employees with abilities to: collaborate, communicate effectively, think critically, and be creative (the four C's). So Waller gathered all the information she could on lesson models that would help her students gain skills in all four of these areas. This is how she discovered problem-based and project-based learning which changed her life!
"When you walk in my classroom, you will see students working in teams on a standards-based project," Waller said. "When a project challenge is issued, the teams come together to analyze the challenge brief and look for the driving question of the overall project, the requirements, and the standards-based rubric. From this analysis, they then create their 'knows' and 'need to knows' list. Their next step is to turn their 'need to knows' into research-based questions."
Teams come together for a 5-minute huddle to check-in with each other. Their goal is to make sure everyone knows what each member needs to accomplish in order to solve the challenge. If everyone is in agreement, they check out their team's supplies, do research, and complete a DIY or attend workshops.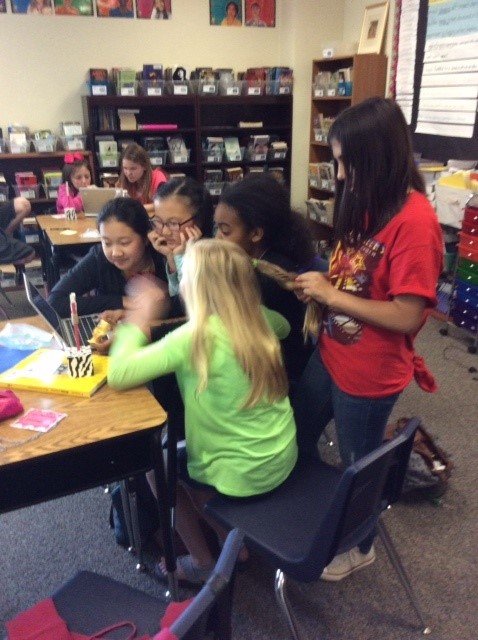 Waller has time to host workshops on standards or concepts for students who are struggling. Students can take what they learn from the workshops back into their teams and participate confidently. Waller has become the facilitator of her classroom. She monitors students' work and asks them how they are doing while keeping up with deadlines.
Waller pre-assesses students before every project on the standards they will learn. This tells her who has mastery over a skill and who will need extra support. Technology tools, such as Istation's Indicators of Progress, help her re-assess students every month to monitor their progress in areas they could improve. Throughout this process, Waller uses a variety of reliable teacher resources to work one-on-one with her students.
Project-based learning makes grading easier as well. Grades are taken along the way before students ever begin creating the final product. Students really enjoy this because they know whatever they create is being evaluated by a real-world audience. "They're much more excited about taking risks and doing their best," Waller says.
Blended learning techniques, such as project-based learning, are valuable in today's classroom. Find out how blended learning fits perfectly into today's digital age with a FREE copy of Istation's e-book Break Through With Blended Learning.