Excitement brewed at Hilburn Academy in Raleigh, North Carolina, when Rida Iyoob, the K-8 Literacy Coach, motivated students to try something new!
Iyoob wore an Istation signature red cape all around campus, whether she was walking the halls or putting kids into their cars after school.
"It's time to share the knowledge. I have my red cape! This trainer has been fully trained! Hilburn Academy Hawks get ready to soar with Istation!" Iyoob tweeted.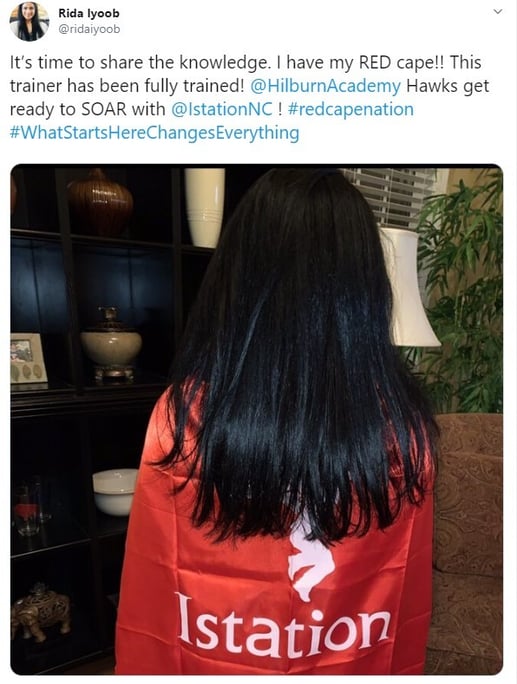 She wanted everyone to ask questions and keep Istation on their minds. When parents asked what the cape stood for, she would tell them about the school's new assessment tool.
To start out the testing, Iyoob sat with a small number of students one-on-one while they took Istation's Indicators of Progress (ISIP™) to see how the assessment looked, flowed, and reported data.
Once students finished taking the assessment, Iyoob pulled the data and shared it with students' parents to get their input.
"Our Hawks and teachers at Hilburn Academy are all smiles while we get important baseline data with Istation. Who knew testing could be so much fun!" Iyoob later tweeted.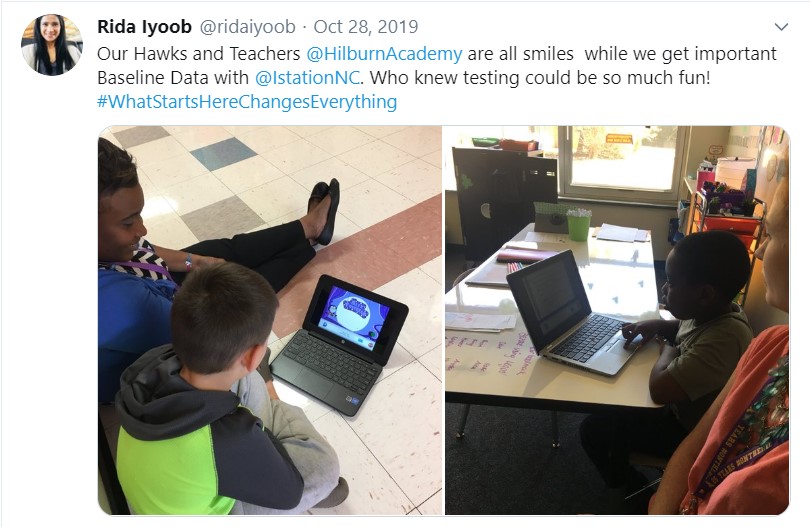 When middle-of-the-year (MOY) testing time came around, Iyoob worked with a fellow coach, Melissa Pendergraft, to take the pressure off teachers. They set up a classroom full of Chromebooks and made a schedule for each teacher to come visit. When the teacher arrived, Iyoob or Pendergraft took over and instructed the class for the day.
Students were thrilled to see their progress bars increase at the end of each reading subtest. Iyoob witnessed some crossing their fingers before the bars appeared on the screen. The literacy coaches immediately printed out students' data reports and had them ready for teachers by the end of the day.
One student told her that it was their birthday that day and they were so excited to do Istation on their birthday.
Students at Hilburn Academy were eager to tell Iyoob what they loved about their experience on the Istation testing day.
"After a full day of Istation testing, I was thrilled to receive some immediate and honest feedback in my mailbox from our young Hilburn Academy Hawks regarding our whole group MOY Istation testing today. Too many sweet notes to post but it is clear Istation is a winner," Iyoob said in a tweet.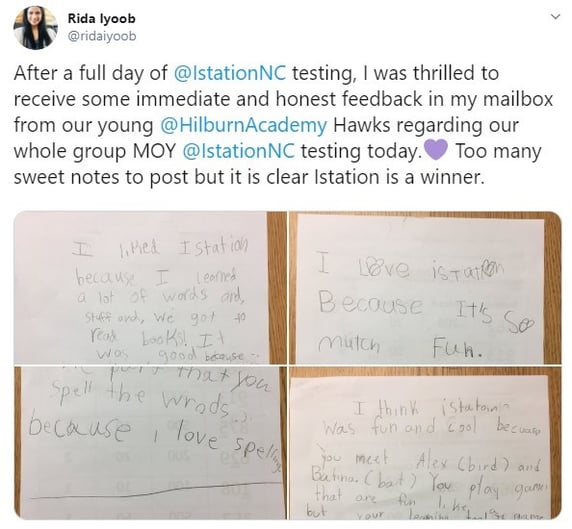 Take a look at how Iyoob implemented Istation!