How to Use Technology to Engage Middle School Readers
In a research study by Gallup, two-thirds of the teachers surveyed said they use digital learning tools to teach every day. Additionally, more than half of the teachers said they would like to use these tools more often.
There are a plethora of benefits for students when using websites, apps, online tutorials, and digital instruction to keep them engaged with learning. Check out these five ways to engage middle school readers in your school or district.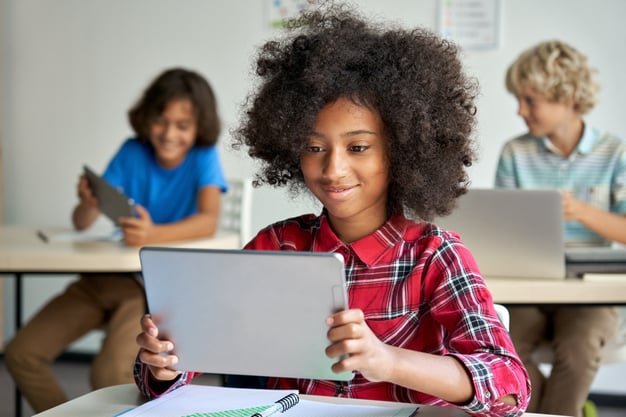 5 Ways to Use Technology to Engage Middle School Readers
1. Use digital learning platforms with all students.
When you give students access to their own personal device or set up time blocks for classes to work in the computer lab, you will find that student engagement goes up. This is especially key in engaging middle school readers.
Students are very familiar with screen time. They enjoy activities available on devices. Keeping them engaged in reading content can be easy to do with online reading programs.
Istation Reading is not just an intervention tool for students with critical skill needs. It is also great for teaching reading to all students. Students can work through their own path in reading instruction, compare scores, encourage each other, and push themselves competitively.
2. Encourage teachers to create a structured environment for screening students each month.
Lounging on the floor to read a book or work on a project is comfortable, and while comfortable seating is necessary at times, students tend to perform better on assessments and screeners if they are sitting up in a more formal position.
Having a structured environment for taking assessments communicates their importance to students. The data measured from monthly, bi-weekly, or quarterly assessments can dictate what a student is taught or needs to work on.
Additionally, setting a designated time each month for screening or assessing can have a big impact on scores. Students will feel more prepared if they know when to expect their screener and what's required when taking it.
3. Involve middle school students in data tracking and goal setting.
As important as it is to analyze assessment data, it's even more beneficial to involve students in the process. Administrators and teachers alike can impact engagement and performance by having regular data discussions with students.
There are multiple ways to track data results with your students. Display boards, visual charts, notebooks, and digital spreadsheets can all show where students have been and where they need to go. Encouraging students to own their reading data motivates them to try their best.
Don't skip the goal setting process with students. This shows them how they can grow in their weakest areas.
When administered monthly, Istation's reading assessments allow educators to see student gains and determine if the student is making progress in the areas of need. Teachers can also target interventions to best meet the needs of the student. Istation is great at surfacing the most important data to educators as well as school and district leaders.
4. Inform all departments (including history and science) about students' strengths and deficits.
Involve everyone! Inform the other content area teachers about their students' data. English language arts and reading teachers can collaborate with other core classes to reinforce literacy skills, reading, and writing across the curriculum.
Opening up discussions about who needs extra support in specific skill areas helps teachers encourage growth at all times. Students see the consistent message and are held accountable for their own data. If a student improves in one subject area, chances are the other subject areas will see significant growth as well.
5. Involve families in supporting their child's reading skills at home.
Because families play a big role in fostering effective reading habits throughout a child's lifetime, schools and guardians can work together to help middle school students embrace reading. Families can support readers at home by allowing them to log on to their district's digital reading programs for extra practice. They can also visit the local library as a family.
Inform parents and guardians of how the reading programs at your school or district work. Walk them through their child's data results and talk about how to work on areas that need improvement. Communicate that reading practice isn't limited to just school time.
Districts can keep families connected by activating Istation's home practice for students. The home features offer students a way to explore the program that is unseen at school. When students log in to Istation at home, they are able to work along their instructional path or select Ipractice to work on their favorite lessons or games. Parents also have access to their child's reports.
These are just a few of the ways to engage middle school learners with the technology tools districts and schools have at hand. The goal is to impact readers by keeping them motivated to learn long after school is finished.