School held special "Istation Nights" to encourage literacy all summer long
We first noticed a creative use of Istation thanks to social media posts featuring priceless captions.
"An iPad for you, an iPad for you, an iPad for you!" said one tweet. "Families that Istation together grow together," said another.
The photos that accompanied those tweets featured families in a s
chool cafeteria using Istation. But it was the middle of summer! That certainly peaked our interest.
We reached out via twitter to find out was happening, and we learned about a wonderful summer program. To encourage summ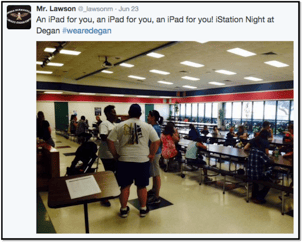 er literacy, and to entice families to spend some quality time together, J.W. Degan Elementary school in Lewisville, Texas hosted six "Istation Nights" between June and August. Students were offered access to brand new iPads that Degan had purchased at the end of the 2014-2015 school year. After logging 30 minutes on Istation, the students were allowed free time on the iPads.

Teachers volunteered at Istation Nights, and the students had to attend with a parent or guardian. As kids worked on the iPads, teachers explained the benefits of Istation to the adults.

The pictures posted on social media prove it was a success. Teachers are proud of the results.
"It was a great way to continue the family and school connections that we all hope to have with our students," one of the teachers said. "Families that attended were able to see what Istation is like and watch their stud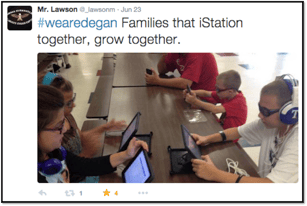 ent show off what they know. Students were able to continue to grow their learning over the summer months."
Hats off to Degan's teachers and administrators for coordinating Istation Nights, and kudos to the students and parents who attended! Thank you for using Istation to learn together all summer long!