How to be a Reading Role Model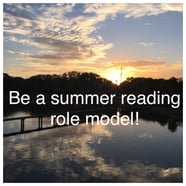 Research shows that children who read fluently do better in school. It's not just teachers who make it happen, though. Parents play a key role, too.
All summer, we've been sharing suggestions about ways to prevent "The Summer Slide," which is the documented learning loss that occurs when students are out of school. Remember experts say reading just five books during the summer months can help.
Here are four new, easy-to-implement ideas for moms, dads, grandparents or guardians. Doing the following things this summer will make teachers quite happy in the fall!
Be a reading role model. It doesn't matter what you read -- a book, a newspaper, online articles, magazines or industry publications. The material is up to you. Just let your children see you read!
Have a family game night. Playing games like Scrabble, Boggle, Pictionary or Scattergories can teach spelling, vocabulary and communication.
Eat dinner as a family, without TV or phones. (That's a tall order, we know!) With older kids, focus on a good conversation. Talk about what went on that day or about what's planned the rest of the week. For younger children, try to incorporate word games like, "I spy something that rhymes with..." or "Name a synonym for..." Make dinner fun and help your child become a conversationalist!
Keep track of it all. Mark a calendar with the amount of time your child spends reading (and working on Istation of course) each day. At the end of the summer, add up the hours. When school begins again, encourage your child to tell his or her teachers how much time he or she spent reading over the summer. Teachers will be thrilled and your child will feel proud!
Read up on previous suggestions from Istation, or you can find additional tips from the US Department of Education. Happy Reading and Happy Summer!