This week we are continuing to highlight Jeremy Roden's travels to rural Nicaragua. If you missed any of the previous parts of his story or need to refresh your memory, read Part One and Part Two featured in earlier blogs.
...
Outside my window I saw a dirt baseball field. "NICA built this. They play games on the weekends," Maria said proudly. For 10 years, in addition to helping improve rural education, NICA Fund had been helping to build and refurbish various structures and buildings throughout the village, even promoting tourism. Maria talked about how visitors from all over the world would travel to this blink of a town to surf and tour the nearby volcanoes. Two popular surfing hostels offered to help the school and NICA Fund with various needs in exchange for Wi-Fi access and other resources. One of the surfers who had a formal education helped teach English to the students and some of the parents. The more I learned from Maria, the more impressed I was with how the people worked together for the improvement of the lives of its citizens. From what she described, everyone knew one another, and quite often it wasn't money that exchanged hands when something was needed. Instead, it was the exchange of services that moved the town along. Life was slower than what most of us experience in the United States, and that was okay.
We turned onto a wider road and on the corner, not two blocks from the beach, surrounded by barbed wire and chain link fencing, was Douglas Vasquez School. It was a rectangular building constructed of concrete blocks painted blue and white with metal roofing. The grounds were dirt, and tall Neem trees provided some shade. I stepped out of the SUV, grabbed my camera bag and walked to the edge of the street to look around. It was fairly quiet, but I could hear the sounds of children coming from the school.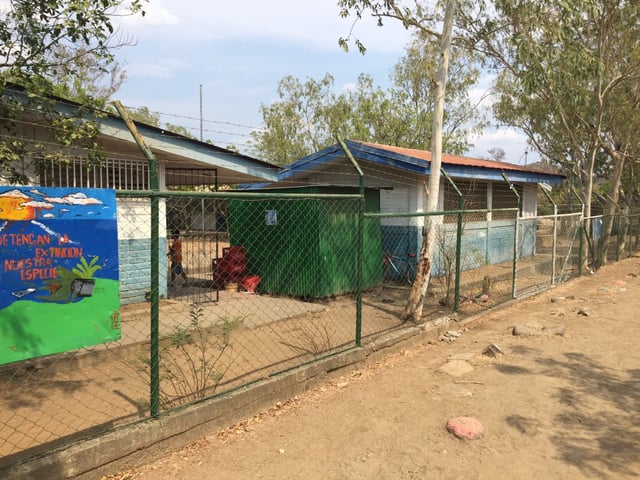 As I turned towards the school, I saw a man and a teenage boy walking up the adjacent road with a large fishing net. They looked like father and son. I closed the door of the SUV and noticed another man walking to the gate. "Bienvenidos," he said, reaching out to shake my hand. He was clean cut with dark hair and looked to be in his upper 30s. It was Michael Parreles, and I could tell he was eager to get the interview started. I reached out my hand. "Gracias," I replied.
We walked through an opening onto a ceramic tiled path that surrounded a dirt courtyard. The classrooms surrounding it were small, a fraction of what they would be in the United States. "There is no air conditioning so we have to have to keep the doors open, and as you can see, the windows are just metal bars," Michael explained. We walked around the courtyard and walked past three students sweeping dirt from the walkway, a task that I assumed was a constant battle. I had been in Nicaragua about two hours, and my shoes were already coated in a layer of fine dust. Just down the walkway I could see Terri Marlett, Executive Director of NICA Fund waiting for us. "You made it! Welcome. You ready?" she asked. "Put me to work!" I replied.
After meeting some of the school staff, Terri and Michael showed me around the school. I took notes where I could potentially set up for the interview and smiled at kids looking out of the classrooms we passed. Each classroom was as basic as you could imagine. There were no colorful decorations or cute cubbies to store supplies. No construction paper lining bulletin boards and no inspirational posters pinned to the wall. Wooden desks were lined in traditional rows, and what limited resources the school had were kept in donated filing cabinets. Pieced-together shelves made from thin planks of wood contained rows of outdated books, some 10 to 20 years old. The classrooms were tidy but nothing was really clean, and the floor's ceramic tiles were cracked and scuffed. The boys wore white collared shirts and khaki trousers. The girls wore white collared blouses with blue skirts. "All of the uniforms are donated and we require them to be kept clean," Terri mentioned. "Of course this can be a challenge here. All of their laundry is done using washboards and buckets of well water."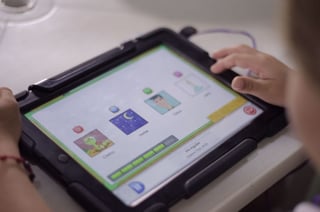 I snapped a few photos with my iPhone and in doing so, recognized a few of the children from some of the classroom photos Terri had sent me. I had been reading about them for the past year and how Terri and her team were working to bring technology to the site. Now, after seeing the students face to face, things were becoming real for me. Everywhere I looked, I saw a need: things to be fixed, painted, or cleaned. The educator in me kicked in, but I reminded myself to stay focused, knowing I had just enough time over the next four days to get the footage and interviews I needed.
We settled on the computer lab for Michael's interview, the room they used for Istation. When I first walked in, I looked back at the group. "Are all the classrooms this hot, Terri?" I asked. "Yes, but this one is less hot," she said with a chuckle. "We had some leftover white paint, which we used on the roof of this room." I stepped outside and indeed the roof, in a small section the size of the room, was painted white. I'm sure the expression on my face when I looked at Terri was one of bewilderment. I was standing in the room they used for Istation and it was beyond hot, almost unbearable, and not to mention, dark. The lighting was so dim and inefficient, the teachers had to keep the door open to let sunlight in. I walked back inside and finished setting up the camera. I looked over my shoulder at Terri and Michael. "I can't believe the students use Istation in here," I confessed. "I have to tell everyone at the office about this." "The kids don't complain. They love coming in here to use Istation." Terri added.
That evening I went back to my room and cleaned up. Terri's staff was kind enough to get me some fresh clothes since my lost bag was probably in Sweden by now. For the first time in 48 hours, I had fresh clothes and a brief time to do nothing. Just before sundown, I stepped onto the balcony, which overlooked the ocean. The Nicaraguan coast with its black volcanic rocks and black sand beaches was beautiful. It reminded me of Hawaii. I spent the next hour thumbing through photos, posting to social media and drinking a glass of fresh hibiscus tea.
At dark, I sat on the balcony outside of my room and noticed small lights flickering intermittently near the horizon. These were the boats of local fishermen. Terri mentioned that each night, the men of El Tránsito and their sons would leave at 5 p.m. in boats called "Lanchas," which were no larger than a couple of couches put together. Each boat had five men or a combination of fathers and sons. They used nets instead of poles, and their only light source was one bulb hung on the end of a long wooden pole angled over the bow of the boat. The flickering happened when each boat would disappear and reappear in the swells. They fished for 12 hours and would return the next morning around 5 a.m., sometimes with a good haul of fish and sometimes no more than 20, selling each at the small market near the school.
At dinner I asked Terri about the age of the boys that would quit school to become fishermen. "Jeremy, ask the boys at the school why they leave school and why they don't need to learn to read. You will get a lot of the same answers from many of them. And the girls know they will be housewives," she explained. "The boys tell me, 'Ms. Terri, . . . I don't need school because I know that I am going to be a fisherman."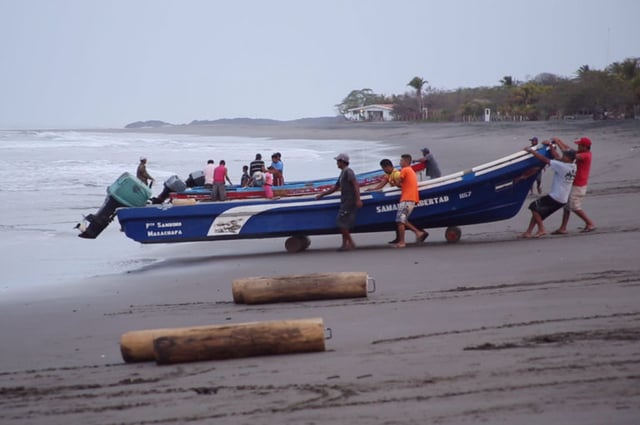 In that moment, I realized how small their world actually was. These children were convinced they had only one future, and this routine and acceptance had been going on for generations. "This is why educational technology is a game changer here," Terri added. "It allows us to reach more of them on a whole new level. If they can learn to read in their native language and then learn English, we can help make their world much bigger. I have hope they will learn more is out there beyond the life of a fisherman who can't read." Terri insisted I see the boats come in for myself. "It will blow your mind how many students we are losing to this," she said. After dinner, I charged my camera batteries and prepared for an early morning.
...
Staty tuned for more details about Istation in El Tránsito.