Zamora was a kindergartener when she first started using Istation Reading at the Boys and Girls Club of Easton (B&GCE) in Easton, Pennsylvania. Her first ISIP™ assessment scores showed her reading level in the 3rd percentile of readers her age. But today, as a 5th grader who has been using Istation at the B&GCE for over five years now, Zamora is reading at a 7th grade level! Her classroom teacher dotes on her as one of the top readers in the class.
With the help of Computer Aid, Inc. (CAI), Zamora and more than 300 other students at the Boys and Girls Club of Easton have been able to use Istation Reading since 2014 in their after-school and summer Istation Reading Readiness program. Over the years, the B&GCE's leaders and teachers have positively influenced reading growth among participating students by developing an effective teaching model that uses Istation data to inform their instructional decisions.
Monica Bowles, Program Director for the Boys and Girls Club of Easton, uses students' ISIP reading scores to measure their growth. "We look at reading proficiency by grade level/tier as well as improvement in two or more critical areas of reading to determine success," she said.
Bowles went on to say, "Achieving academic success in reading is a primary goal of the club. Being able to help students meet or surpass their goals and seeing the hard work and perseverance from the students is what makes teaching so rewarding."
Tailoring the reading experience to strengthen each component of reading helps drive the successes at the B&GCE. Renee Stephens, CAI Cares Director at Computer Aid, Inc. said, "Our education partners, of which B&GCE is one, practice differentiated instruction with their students whether it's one-on-one or in small groups. Having this data in front of them helps them tailor instruction to meet the needs of the student."
"Istation Reading provides a vehicle for assessment and small-group practice, giving students that extra boost of instruction to help solidify missing skills," Stephens said. The majority of students at the B&GCE did not have the opportunity to attend pre-kindergarten prior to starting school and lacked the foundational skills they needed to build upon in order to learn to read.
With the goal of advancing students' reading levels to at or above grade level, participants in the Istation Reading Readiness program have demonstrated the following positive results.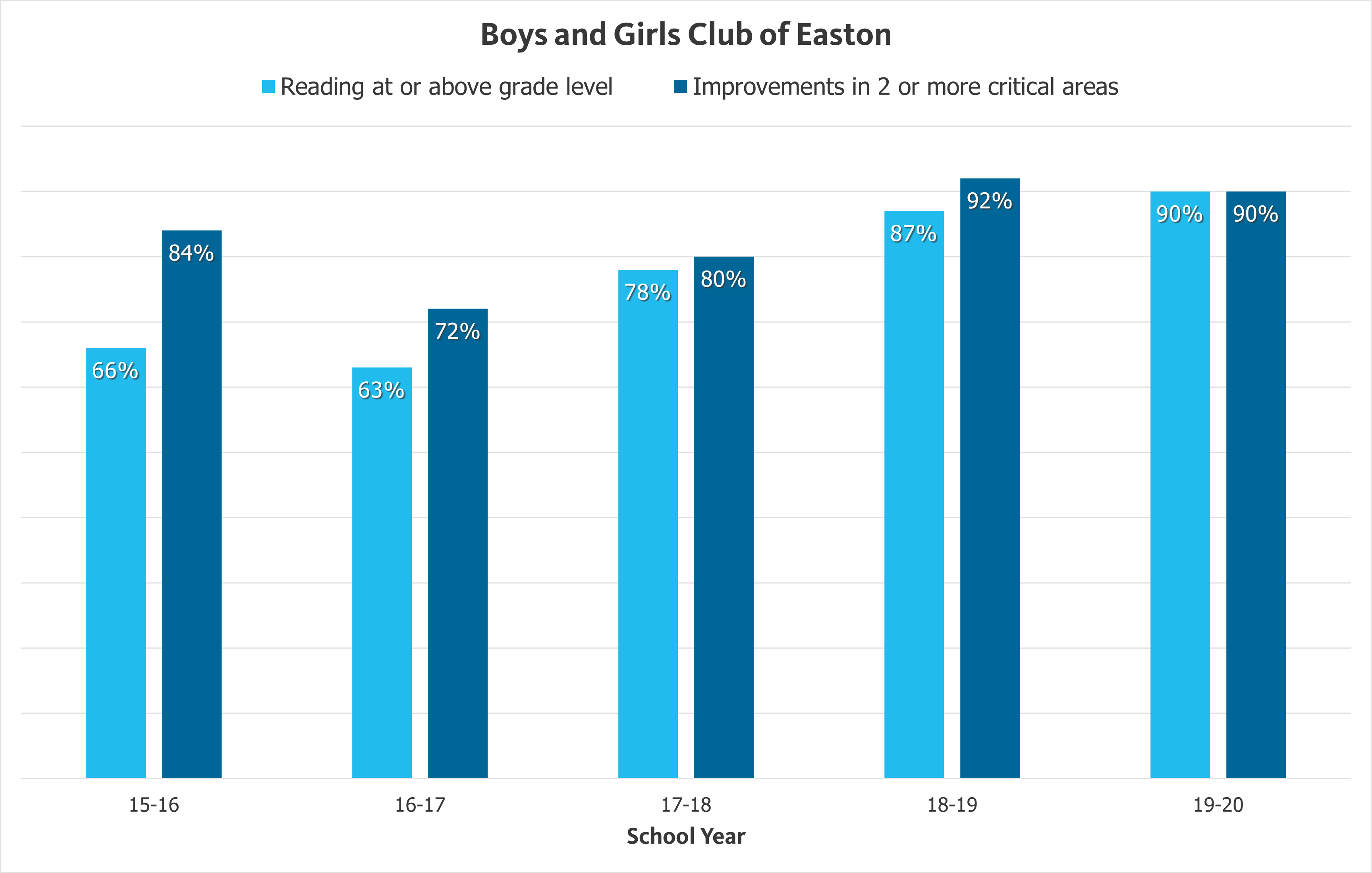 Bowles uses ISIP data to show students' percentage increases in two areas: reading at or above grade level and improving/increasing reading scores in two or more critical areas.
Read more about an outstanding teacher from the Boys and Girls Club of Easton.