Summer camps using Istation to stop summer reading loss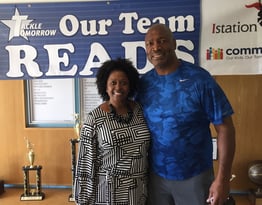 He's one of the most successful pro football players in history, with more world championships to his name than anyone else. Despite his incredible success, NFL legend Charles Haley struggles with something most people take for granted -- reading.
Haley, a former San Francisco 49er and Dallas Cowboy, grew up in rural Virginia and was never really gave much thought to the world outside his small community. "I didn't know how to dream, especially dream big," Haley said.
He thought of school as a place he was forced to go. He admits he just did the "bare minimum". He never thought of education as a gift.
Athletic talent got him to college, but once he was there Haley needed intense help from tutors to pass. Haley can read, but not with great confidence. One of his greatest regrets is not valuing his education.
Haley chose Istation as a partner in an effort to teach kids to take a different path. He co-founded a nonprofit organization called Tackle Tomorrow, which paid retired literacy coaches to visit day camps in Dallas during summer mornings.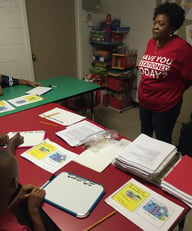 The coaches used Istation's printable teacher-led lessons to provide supplemental reading instruction to small groups. In addition, kids spent time on Istation, thanks to software licenses Istation donated.
Haley said Istation would have been a "difference maker" for him as a child. "I had no attention span. Istation would have kept me interested and motivated," he said.
When he visited two of the Tackle Tomorrow sites, he spoke from the heart.

"You need to start dreaming today," he told the campers. "Dream about what you what to be and who you want to be. And remember that you can't do anything without an education."

To the delight of the kids and the staff, Haley handed out special Tackle Tomorrow playing cards, posed for pictures and signed autographs.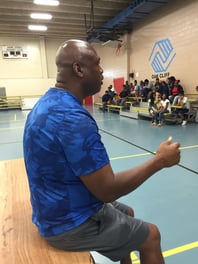 The literacy coaches who worked with the students at two of the sites -- the Oak Cliff Boys and Girls Club and Cummings Recreation Center, both in the southern part of Dallas -- call the program a success. During June, July, and August when students aren't in school, kids often suffer "the summer slide," which is a loss of reading ability. The Tackle Tomorrow kids received high-quality reading instruction from Istation to fill that critical gap.
Charles Haley is being inducted to the Pro Football Hall of Fame this weekend. We tip our hat to a man who has overcome many struggles in his life and now uses his past to inspire others.
We've posted additional photos of Haley visiting Istation's summer sites on facebook. Like our page, share this post, and spread the word that Istation and Charles Haley are helping kids tackle tomorrow, today!