Why School Technology Should be Accessible for All
The goal of accessibility is to level the playing field for all learners, regardless of learning style, background, and individual needs. Well-designed technology tools are accessible even for students who have not had much exposure to digital learning or who might have transferred from schools where things are done differently.
The pandemic has drastically impacted education and the way we teach, but not all learners were impacted equally. Economically disadvantaged populations suffered from traditional approaches to distance learning environments when schools had to close. Consequently, this widened the achievement gap between households with limited technology and internet access and more affluent populations.
This year most school districts are back to in-person learning, but the pandemic has accelerated the incorporation of instructional technologies in schools. Educators may feel forced into a game of catchup. This list of four traits can help you choose technology that is accessible for all students and teachers.
4 Traits for Choosing Accessible Technology
1. Accessible technology adapts to students' needs.
When educators utilize resources that offer visual and audio support, keyboard modifications, or other general accessibility tools, education comes within reach for so many more students. Adaptive technologies meet students halfway to facilitate learning and lower barriers to success.
Teachers are more likely to feel that they have the support they need when differentiation is just a click away. Programs like Istation offer differentiation throughout the entire learning process, empowering students with diverse learning styles and accomodations. From the moment they complete their first assessment screener, students get the instructional practice they need to improve reading and math skills in the online platform.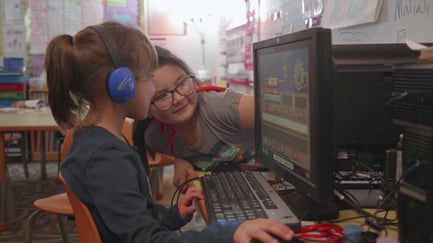 2. Accessible technology engages learners and is easy to use.
Educational technology that personalizes the learning experience with grade-level appropriate, adaptive features makes the learning experience fun and engaging. If educational technology inspires curiosity and feels relevant to students, teachers will benefit from more student buy-in as the school year progresses.
Ease of access is an essential ingredient for engagement. That starts with trouble-free setup and logins, but goes on to include an intuitive user experience. The first few interactions with new technology can dictate the mood of any classroom.
Teachers know they have to earn students' trust before they can build a classroom environment that is conducive to learning. Facing complicated software with frustrating barriers to access can tarnish students' first impressions of any course. This is especially true for those who are learning virtually.
3. Accessible technology meets district and state guidelines.
Standards alignment is a must-have when selecting supplemental technology tools in your district. When providing turnkey support to teachers, well-designed materials that meet national standards and district guidelines are non-negotiable. For effective implementation, it's necessary to choose instructional support wisely to meet district and statewide standards from day one.
Teaching philosophies vary based on leadership, performance data, and student needs. With so many resources vying for your business, there's no need to compromise your school's approach to pedagogy. Early in the resource shopping process, district leaders should determine the core principles that drive their school's learning philosophy and seek products that can build upon successes while striving for the next level.
Istation offers research-based instruction that aligns to state-specific standards and Common Core State Standards (CCSS). Correlations to individual state standards and CCSS are available for Istation's math, reading, and Spanish programs.
4. Accessible technology saves teachers time.
The number one factor weighing on teachers who consider leaving the profession is not pay: it's stress. It's true that 16 percent of teachers leave for other positions each year (8 percent leave teaching entirely), and district leaders recognize that impact more than anyone else.
Focusing on educational technologies can transform teachers' day-to-day if the right resources are implemented effectively. Accessible, aligned, and ready-to-go resources cut down on lesson planning and last-minute scrambling. Teachers become more present in the classroom as they gain opportunities to facilitate learning and build relationships with students who need that extra support. Even with the pandemic setbacks that present more challenges for teachers, accessible technology for classroom and remote learning brings a glimmer of hope for curriculum coordinators, teachers, and students alike.
Quality instructional interventions are vital in today's classroom. Carefully chosen technologies should make learning more accessible and engaging for students while facilitating the role of teachers, not complicating it.
It can be a daunting task to find the best instructional technology tools for your district's schools. With the multitude of edtech product offerings, we hope these four traits help you find technology that is accessible for all.
Istation's Indicators of Progress (ISIP™) assessments provide students with several types of accommodations and accessibility features, both embedded and non-embedded. We are pleased to announce the release of a new document that details these accommodations and features and will be updated as more are added. View and download the ISIP accessibility details here!