Why You Should Choose the Right Biliteracy Technology for Your English Learners
Schools across the country have discovered the importance of developing and empowering their Spanish-speaking students. They are encouraging English learners to pursue biliteracy through bilingual and dual-language programs. These learning programs often have goals for students to…
achieve success at or above the benchmark in content areas;
become bilingual and biliterate; and
develop the knowledge, skills, and disposition to become a competent global citizen.
A student from Harney Elementary School in Washington works in Istation Lectura.
As biliteracy and dual-language programs are created, schools are integrating technology into their curriculum. However, they aren't always sure which technology is the best for their students.
4 Key Features for Choosing the Right Biliteracy Technology for Your English Learners
The right biliteracy technology plays an important role in creating the perfect opportunity for English learners to achieve their goal of becoming biliterate. Here are four key features to consider when determining which biliteracy technology would be best for your English learners.
1. Utilize adaptive instruction to educate English learners.
Adaptive technology is great for measuring English learners' ability to listen, read, write, and comprehend in their second language. With this type of instruction, the level of difficulty increases gradually, allowing the learner to achieve language proficiency.
The technology's ability to adapt allows your students to work through their individual learning path. These paths shift for English learners so that they are receiving instruction in specific areas of needed skills and working at their own pace.
Technology like Istation Reading provides schools with the necessary adaptive features needed to aid English learners in achieving language proficiency:
monthly formative assessments designed around the science of reading;
precise and individualized instructional paths for pinpointing areas of skill needs; and
personalized data profiles that can be viewed at the classroom or school level.
2. Engage learners with authentic Spanish instruction.
Although many of the goals for these students center around learning English, it's important that they are also improving their literacy skills in their native language. This is the main purpose of dual-language programs being included in school curriculums.
For the continued Spanish literacy instruction to be engaging, the technology must embed authentic cultural experiences into its content. This authenticity is key for engagement. It allows English learners to make strong connections between what they are learning and their real life.
Istation's authentic Spanish literacy intervention and instruction technology offers students the opportunity to learn to read in Spanish with culturally relevant content. Istation Lectura's instruction provides…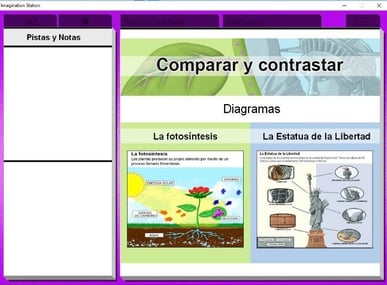 explicit delivery of research-based instruction and practice;
differentiated instruction based on scope and sequence, assessments, and student interaction; and
engaging multimedia and teaching techniques that maximize opportunities to learn, practice, and review skills.
3. Provide dual-language assessments.
As your dual-language students are receiving English and Spanish instruction, it is important that the technology provides accurate assessments and results with relevant statistics for both languages.
Frequent progress monitoring with reliable assessments allows administrators and teachers to see how English learners are performing over a period of time. Digital progress monitoring tools are a must for this type of year-round assessment schedule. With reliable technology, your educators will receive assessment data results effortlessly so they can make adjustments to instruction as needed.
Istation offers a progress monitoring tool for English learners that is automatic, easy-to-use, and provides actionable results. Teachers have the option to administer assessments to their whole classroom, a small group, or on demand as needed.
4. Provide side-by-side biliteracy reporting.
With regular progress monitoring in place, teachers and administrators receive a regular stream of data for each English learner. As mentioned before, this data is instrumental in making necessary adjustments to individual instruction plans. This process is made even more effective when biliteracy technology allows educators to view English and Spanish literacy data in the same report.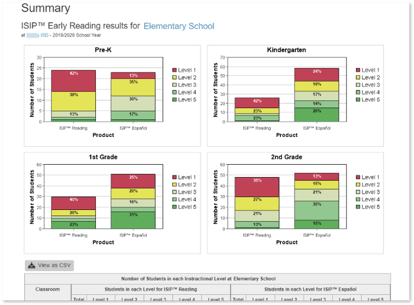 Istation offers biliteracy reporting with a side-by-side summary of Istation Reading and Istation Lectura data in a single report. Educators use this feature to:
identify their English learners' skill strengths and weaknesses;
place students in small groups; and
adjust the individual instruction plans.
This type of reporting has proven to help educators determine if English learners are struggling with language, literacy, or both.
Istation's dual-language e-brochure covers how to deliver accurate, on-demand data that drives classroom interventions and instruction. Support your pre-K through 8th grade English learners with motivational, culturally authentic educational technology, teacher resources, and more. Click to download the brochure.