How do you increase a company's customer base by 886% in five years? How do you grow revenue by leaps and bounds, create more than 100 new jobs and do it all in the rapidly changing world of educational technology?
Richard Collins knows how, and Istation's impressive recent growth is proof.
Collins is the Chairman and CEO of Istation. His leadership, vision, and perseverance is the driving force behind Istation's success. He was recently named a top Entrepreneur of the Year® in the southwest -- an accolade he richly deserves! Take a look at what D CEO magazine had to say about him in the July/August issue: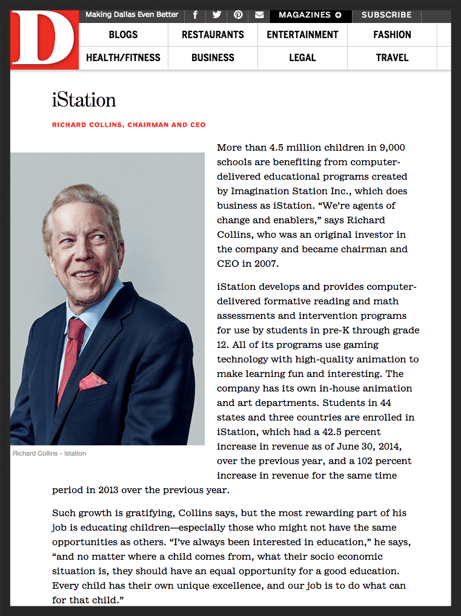 Collins is not comfortable unless he shares the spotlight, and he gives a strong team credit for Istation's success. So several employees joined him at a black-tie gala honoring the Entrepreneurs of the Year.

We'd like to offer sincere congratulations to our fearless leader! We are proud of what we've accomplished together and incredibly excited about the future.