During our "Innovation" classroom contest, which ran from February 1 to April 30, 2016, we asked educators to tell us how they use Istation in exciting and innovative ways to help students grow. Read on to see how Honorable Mention winner Lizette Paceley is innovating with Istation.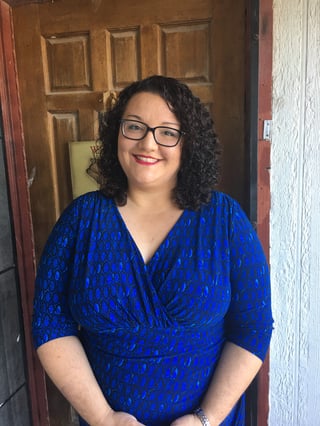 Lizette Paceley is a 7th grade ELAR-Writing teacher in her hometown of Freer, Texas. Since she began teaching in 2012, she has been committed to incorporating data and technology in her reading classroom through innovative practices. She is motivated by personal grit and determination to be a successful teacher for her students with the insight and knowledge gained through her doctoral program at Texas A&M University-Kingsville. As a person who takes her job very seriously, Lizette jumps out of bed each morning to share her knowledge with children who aspire to use their own innovations in the world.
Students created unique pseudonyms and avatars to keep their test results anonymous.
How do you use Istation in innovative and exciting ways?
At the beginning of the year, I found it really hard for my students to stay both motivated and engaged on Istation. The students did not want to try their very best each month when the ISIP™ assessment was given to them. Just verbally telling them which tier they were on was not an incentive or created no internal motivation to want to do better. I created the cards first as a way for students to remain anonymous with their results. Students were able to create unique avatars that matched their personalities. Then students created a unique username to put on their cards in order to match their progress. Once the students took their monthly ISIP assessment, I had the students physically put their cards in the corresponding tier. This was a real eye opener for the students.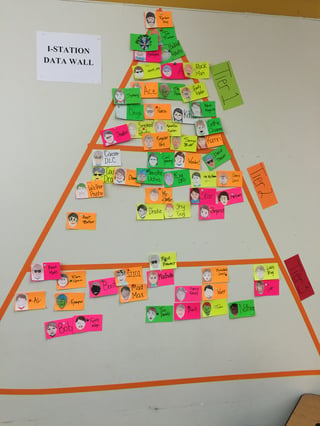 Every month, the students place their cards on the board to compare their tiers.
How does this innovative use of Istation lead to student motivation and growth?
After I incorporated the data wall, students who were non-struggling, but provided little effort, were more motivated to try harder to be on the higher tiers. I originally had over half of my 7th grade students in Tier 3. Now I only have 18 students in the lowest tier. Students are excited and want to try harder on their ISIP assessment. Some students even ask me to do the test again, just to see if they can score higher.
I have even added a top 5 list of the highest performers and have added a "most improved" list for students who increased their overall score 100 points or higher. This allows my true Tier 3 students to still get recognition until they can move into a higher tier.
One student performed consistently with an overall score of around 1300. After seeing his card on the lowest tier, he tried harder and got the "most improved" achievement for jumping up 500 points. I changed my perspective on his reading level because I originally worried that he was at a 1st grade level. I never realized that it was from lack of effort.
***
Congratulations, Lizette! We hope other educators pick up and use this great idea.

Stay tuned for the announcement of our "Innovation" contest winner!