Over the past month we have been spotlighting Istation team members who are involved in developing, writing, and programming Istation Math. Today we introduce Jonathan Welch, a product tester for Istation's new middle school math program.
Developing Math for Middle Schoolers
Welch spent time in several parts of the United States. He was born in California and moved to Dallas after spending the bulk of his years in Washington State. He worked at Nintendo testing projects like Mario Kart Wii, Super Smash Bros. Brawl, and Advance Wars: Days of Ruin. Later he worked as a compliance game tester for Xbox 360 and for the Microsoft Office store team (also known as O365).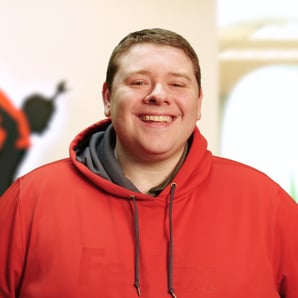 Meet Jonathan Welch!
Now at Istation, Welch is a quality assurance tester on Istation's new middle school math program, meaning he tests lessons, games, and activities before students and teachers see them.There is so much that goes into making Istation Math a great product for teachers and students. The ideas behind the program have to be discussed and concepts need to be planned out. Then it all goes to development. The program is developed and molded by Istation designers before being put in the hands of a quality assurance tester like Welch.
"I get to act as if I were an end user and play in the program," Welch said. "A lot of my testing will be stressing the program in ways to make it act contrary to its intention."
Trying to break games sounds like a fun way to spend a day at the office! That might mean clicking an item rapidly or trying to drag an item somewhere it doesn't belong. Welch explained the complexity that goes into his thought process. With each lesson, game, or activity in Istation Math, students and teachers will be working along a linear path that adapts to the user. To deviate from this path, Welch has to think outside of the box about what he wants to do during his tests.
Welch said one of his favorite bugs to work on was on a game that had an airplane appear mid flight where the player would take control.
"I wondered what would happen if the player was really really bad at this game and lost countless airplanes," Welch said. "I proceeded to crash the airplane into the ground whenever it would spawn. I did this for about an hour but then was rewarded with the game crashing. This was a mixture of stress testing and end user experience, as there is a real chance that someone could lose those airplanes . . . albeit through fighting enemies and not crashing them purposefully into the ground."
Working Together
Since Istation's middle school math program is brand new, there is no shortage of things to work on. A typical day for Welch could include meetings with the whole production team to discuss progress, theories, game concepts, and overall changes that may be happening.
One of Welch's favorite parts of the process is being able to contribute to the new product. He is excited about being a part of something so new and seeing it built from the ground up.
Welch is asked to share his ideas with game developers as well as test what's made to see what works or doesn't work.
"This job would not work without teamwork," Welch said.
Interesting Facts about Istation Math
I asked Welch what was something he would like teachers to know about Istation Math. He explains that Istation Math is very unique in a way that helps students feel successful no matter where they end up in the program. Students don't need to be expert readers to work in Istation Math. I see such an advantage in this detail. I remember when I was a classroom teacher, I saw students struggling to read our online math program's questions, hindering them from moving on to another level.
Another interesting thing to watch for in Istation Math is in the reteach element for students who are struggling with a lesson. If a student is working in Secret Equation Man and needs more help with a particular topic, they will be "sent back" to the Chief (Istation Math character introduced at the beginning of Secret Equation Man). They are then directed to an early lesson to get the help that they need. This process occurs seamlessly for the student. After that they may bounce right back up to Secret Equation Man.
It's small details like this that help set Istation Math's team members apart in the educational technology space. The learner comes first!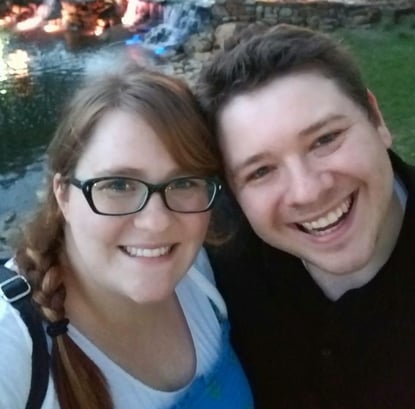 Jonathan and his wife Chelsey in Fort Worth, TX.
"It's an honor to be a part of this team. This is something that could change a student's life," Welch said. "I am in a very different role where I could have an impact on a life, whether big or small. I am happy to be a part of that!"
~~~
Tune in again during the next few months as we share more team-member spotlights!