We are continuing to spotlight a few of Istation's team members who are involved in developing, programming, and curriculum writing for Istation Math. Meet Joshua Liu, an interactive programmer!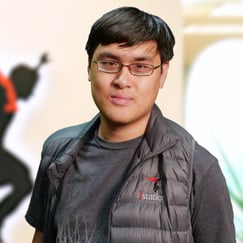 Istation Interactive Programmer Joshua Liu
Liu started out as a UT Austin graduate with a B.S. in electrical engineering. His interest in computers and electronics led him to pursue electrical engineering as his main field of interest, but he was also exposed to the basics of programming during his studies.
"While I had issues trying to find employment as an electrical engineer," he said, "I continued to practice with programming on my own time and found myself more invested towards pursuing programming as my profession of choice."
He worked for a few years with a non-profit game development company before choosing to begin working on a second bachelor's degree at UT Dallas for computer science.
"Shortly after I started my pursuit for a second degree," Liu explained, "I received an interview opportunity from Istation for a multimedia programmer position, which was the basis for my current employment status here with this company for over four years."
What does his job look like?
Liu's work at Istation centers on creating content for the Secret Equation Man series. As an interactive programmer, his main responsibilities include developing the workings and mechanics of the various interfaces and scenes that students and teachers interact with in Istation Math 3-5. Additionally, he collaborates with the curriculum, art, and design teams to merge art, ideas, and educational content so that it is presentable, playable, and enjoyable.
Liu also works with various other interactive programmers and provides coding assistance when needed. He is responsible for assisting with fixing programming bugs and often takes extra care in bug-checking the math program to ensure issues do not arise further down the line.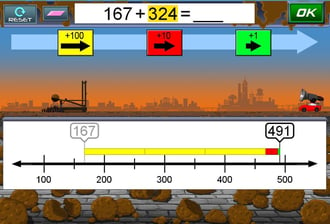 Secret Equation Man: Adding on a Number Line lesson that Liu created
Teamwork
Teamwork plays a vital role in the Math 3-5 team's job at Istation. The team conducts interdepartmental meetings on a near-daily basis to update everyone on various project statuses and bring forth issues that require collaborative input.
"With all departments having greater roles in the various stages of a project's development, teamwork and communication between team members have become essential to our work environment," Liu said.
Liu is most proud of his work on the Block Logic game, which started out as an experiment to try out a new game idea.
"The original idea came from a co-worker who was curious to see if we could implement a variant of a Tetris-like game that Google released for A.I. learning," he explained. "Using the game as a basis, I proceeded to make a different version of the game that would test a student's arithmetic abilities and incorporated different rules and mechanics. The entire product is heavily reliant on the programming behind the game, and I take great pride in my work with the development of the code used for random question generation and random block generation."
Liu also discussed how some elements of this game came about from extensive collaboration with his fellow team members. This project is an excellent example of what can come from collaborative effort and feedback.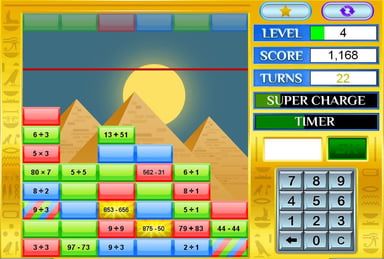 Block Logic
Looking Towards the Future
One thing Liu is excited about for the future of the Istation Math team is the new direction that the product is headed. Project work feels much more collaborative to him, and he knows the team is taking new steps toward making lessons, games, and activities more interactive and immersive for students and teachers.
"I hope that our team will be able to bring forth fresh life to our company's math program," Liu said.
~~~
Tune in again during the next few months as we share more team-member spotlights!