We are starting a new blog series that spotlights a few of Istation's team members who are involved in developing, programming, and curriculum writing for Istation Math. Meet our interactive programmer, Liz Payson!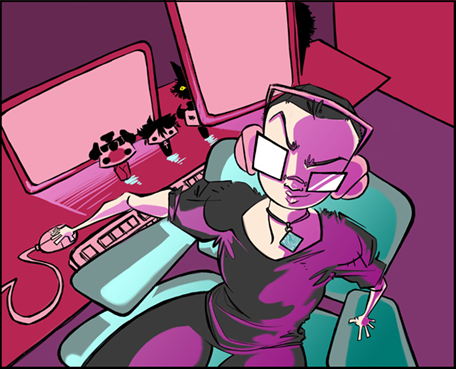 Liz sketched by Heather Williamee
Q: What do you do here at Istation?
I'm on the middle school math team. We're pretty early still in development of our first batch of content, but I'm one of the folks that takes the lesson descriptions and artwork and explains to computers how to make that interactive and educational.
Much of my time is spent writing algorithms, having deep thoughts about graph theory, finding new and exciting ways to break our development software, noodling out and writing handling for edge cases (like what happens if a student attempts to divide by 0), and drinking coffee.
Q: What is your professional background?
I have a bachelor's degree, but it's in computer engineering, not computer science. Computer engineering is somewhere between computer science and electrical engineering. It's a lot of hardware-level programming and design, as opposed to programming software or games. I pursued a degree in computer engineering because I wanted to work in neural prosthetics R&D (like Luke Skywalker's robot hand).
I actually didn't take a whole lot of software programming courses in school, and most of my software programming knowledge is self-taught. Some of our best programmers here at Istation don't have computer science degrees. You can get pretty far with great problem-solving skills and some curiosity.
Q: Give an example of an Istation project you worked on that you are proud of.
I am the principle architect behind the upcoming achievement system that we hope to be rolling out soon.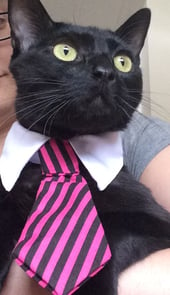 Meet Liz's cat
Q: How does teamwork play a role in your day to day?
I work with folks from multiple departments on a daily basis, ranging from artists and former educators to our back-end engineers. A lot of communication goes into making sure that small changes here and there come together into a great final product.
In particular, I spend a lot of time with our curriculum specialists and artists. Our curriculum specialists are invaluable in guiding the design of our interactive modules, and they rely on programmers and our QA staff for feasibility and functionality feedback.
As for our art guys and gals, little changes to artwork or code can have a major impact on the visual appearance of our product, so there's a constant channel of communication between myself and the artists working with me on a given project to make sure everything looks and functions correctly.
Q: What's one thing that excites you about developing Istation Math?
I like working on our math team because I'm pretty good with math, and it kind of bums me out that there are folks out there that believe they just can't do math or will never be good at it.
I think a lot of the time, there's an underlying issue in a person's math education that just gives them a distaste for math. Maybe they weren't getting the support they needed from a teacher because their class was too large. Maybe the class forged on ahead when a concept wasn't clear to a student, and because math skills are frequently cumulative, that student never really caught up. And kids develop intellectually at slightly different rates. Maybe a student just wasn't quite ready yet for what they were being taught.
In any case, I think these kids often grow up into adults that just believe they can't do math or they're not good at math. I don't believe everyone is inclined to like math, but I do believe math literacy is within the reach of everyone, and I hope that Istation's math products can help demonstrate to kids that they absolutely can do math.
Q: Tell us about your interests outside of work.
I knit.
I bake bread and pastries.
I tinker with electronics stuff.
I nap. Like a lot.
I used to do aerial silks.
Also I make a mean cheesecake.
~~~
Tune in again over the next few months as we share more team member spotlights!