We are continuing to spotlight a few of Istation's team members who are involved in developing, programming, and curriculum writing for Istation Math. Today we want you to meet Nathan Reinhardt, in-house artist!
Nathan Reinhardt and his family
Reinhardt loved gaming growing up. For him, one of the most exciting things about developing games at Istation is that he is helping bring gaming into the classroom.
"When I was in elementary school, I couldn't wait to get home and jump on the Nintendo," Reinhardt said. "I can only imagine how much more interested I would have been in school if I had been taught through gaming. It's a fairly new frontier that needs a lot more exploring, and it is exciting to be part of that."
Reinhardt has a degree in 3-D modeling from the Art Institute of Dallas. In one of his first jobs, he worked as a character modeler in Lewisville, Texas. His role was to create characters for a PC game inspired by film. Reinhardt said that finally getting to work in the field that he loves was a super exciting time for him.
From there he took a position at a software company creating characters for a James Bond-themed game as well as a WWII-themed video game named "Brothers in Arms." Reinhardt later began working for a smaller start-up that only had four employees. This job allowed him to grow his skill set and experience beyond 3-D game characters.
At Istation, Reinhardt creates art for all types of games. Istation launched its ISIP Oral Reading Fluency (ORF) program this past year. Reinhardt was given the opportunity to create the art for the ORF software, which has become some of the work he is most proud of.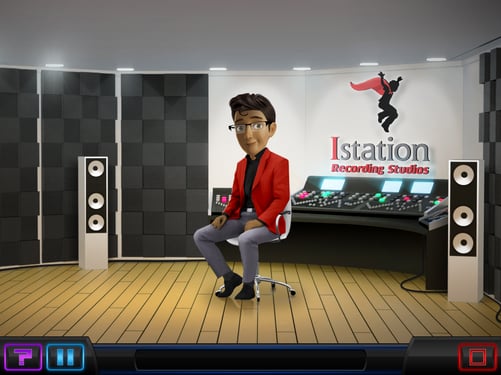 Scene created by Reinhardt for Istation's new Oral Reading Fluency assessment
When describing this project, Reinhardt said, "They wanted it to look different than the Istation norm, which is a 2-D cartoon look. With ORF, I was able to showcase some 3-D artwork including 3-D character art in a 2-D setting. It was an experimental approach and a bit of a challenge, but I am happy with the results."
Reinhardt's art also stood out in a recent design contest at Istation. Employees were asked to create a new design for Istation's advanced reading assessment. During a company-wide meeting, it was announced that Reinhardt's design was chosen as the winner of this contest! (The release of the new look for Istation's advanced reading assessment is coming soon!)
Teamwork plays a huge role in what Reinhardt does at Istation day in and day out. Constant feedback is important, and team members must interact and talk to make the product the best it can be.
"Every day my team meets to discuss what we are working on, our needs, and how we can help each other reach the team's common goals," he said.
Nathan, thank you for all you do here at Istation!