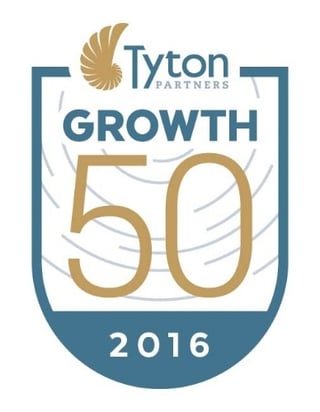 We have been recognized as a 2016 Tyton Growth50 company! The Tyton Growth50 celebrates innovative organizations achieving impact at scale through a combination of strong financial performance; market awareness and adoption; and demonstrated customer outcomes across the preK–12, postsecondary, corporate training, and consumer education markets. As one of 50 organizations selected this year, this achievement marks a significant milestone in Istation's evolution.
"We are honored to have been selected as a Tyton Growth50 company. By continuously innovating and relentlessly pursuing our mission to support educators and empower students, Istation has been able to continue to grow rapidly," said Richard H. Collins, Istation's Chairman and CEO.
Each year, experts on the Tyton Partners team review nominated companies in the space, evaluating each against the Tyton Growth Framework to narrow the field. That analysis is used to select the 50 companies that best exemplify the impact, engagement, awareness and sustainability necessary to have lasting impact.
"Early-stage investment in education remains strong, but we often lose sight of what happens to these companies after initial funding," noted Adam Newman, Co-founder and Managing Partner at Tyton Partners. "Companies selected for this year's Tyton Growth50 are exemplars for understanding the transition from early- to growth and later-stage businesses, making that transition successfully and achieving impact at scale across a variety of segments of the education market."
Tyton Partners is the leading provider of investment banking and strategy consulting services to the global knowledge sector. The firm has offices in Boston and Stamford (CT), and an experienced team of bankers and consultants who deliver a unique spectrum of services from mergers and acquisitions and capital markets access to strategy and market development services that helps companies, organizations, and investors navigate the complexities of the education, media, and information markets. Tyton Partners leverages a deep foundation of transactional and advisory experience and unparalleled level of global relationships to make its clients' aspirations a reality and catalyze innovation in the sector.
For more information visit www.tytonpartners.com or follow them @tytonpartners.