Istation recognized as a "game changer" for efforts to boost literacy during out of school time
Within every large urban area, there are pockets of poverty that have existed for generations. But there are also agents of change working to build a new future that is not defined by the past. One of those agents of change in Dallas, where the Istation home office is located, is The School Zone.
The School Zone is a collective partnership between Southern Methodist University, 29 nonprofit agencies, and 16 public, private and charter schools in a particularly impoverished area of Dallas. The goal is to change the way of life. The School Zone believes the only way to do that is through community involvement.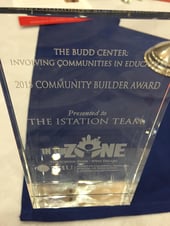 Istation provided The School Zone access to our impactful learning programs, and students are now continuing to build literacy skills in after school settings. For our efforts to extend learning during out-of-school time, The School Zone honored Istation with the 2015 Community Builder Award. We loved being called a "game changer" by the executive director!
The award presentation was a small part of an intriguing event that included an in-depth conversation with the superintendents of two large North Texas school systems. They spoke about efforts to transform low-performing schools through community collaboration.
Dallas Independent School District Superintendent Mike Miles said effective teachers and campus leadership teams can make a huge impact if they have high expectations. But he added that a community rooting for that school is an absolute necessity.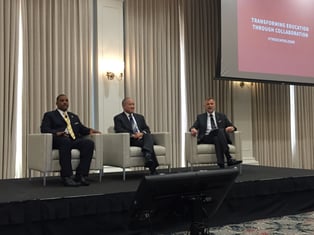 Lancaster Independent School District Superintendent Dr. Michael McFarland said principals and assistant principals on struggling campuses must create a family atmosphere -- almost an "us against the world" environment. He encourages teachers to have regular communication with parents to ensure contact doesn't only occur when there is a problem.
Both superintendents acknowledged that accountability is important, but Miles said districts need to remember accountability without support builds fear.
It was an interesting and inspiring event. And in a room of educational visionaries, Istation was proud to be recognized as a collaborative partner.