For grades 3-8 in Texas, Istation is the highest-ranked screener and reading instrument used to assess students' reading development and comprehension to identify students who may be at risk for reading disabilities, including dyslexia and other related disorders, according to a study conducted by American Institutes for Research.
Istation also ranked second highest for grades K-2 with 28.5% of early elementary schools in the state using the screener. For grades 3-5, Istation is used in 29.5% of schools, and in grades 6-8, Istation is used in almost 20% of schools. See the chart below.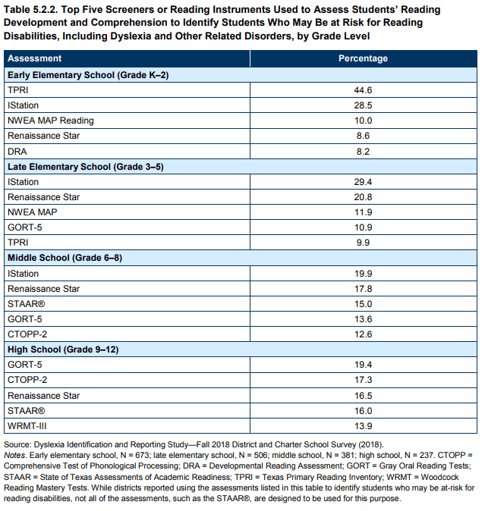 Istation's computer assessments not only screen for learning disabilities but also provide schools with real-time data and actionable lesson plans for delivering interventions and instruction.
Istation Research Director Victoria Locke, PhD, touches on the importance of properly identifying students with dyslexia in an interview with District Administration magazine. She mentions that it is necessary to "look for patterns of strengths and weaknesses to differentiate students who are at risk for dyslexia versus students who may be poor readers but don't have dyslexia."
Read the full interview between Dr. Locke and District Administration to learn how Istation can help identify children at risk for dyslexia as well as provide them support.