Teachers can quickly and easily measure and score how many words a student can read accurately with Istation's Indicators of Progress (ISIP™) Oral Reading Fluency assessment. The fast and flexible advanced speech recognition technology provides the opportunity for students to demonstrate their reading accuracy through the oral reading of text and the collection of a running record.
Students' passages are recorded, and the teacher has the ability to sit with the student, observe and score the passages immediately, or listen and score the passages from the student recordings.
ISIP Oral Reading Fluency assessment provides schools with . . .
grade-leveled passages that students read aloud and record digitally in the Istation Recording Studio;
audio playback features that allow teachers to play, advance, pause, and rewind student recordings;
online access to an archive of student recordings available to review at any time;
scoring that analyzes oral reading proficiency and measures accuracy, fluency, and expressiveness;
note-taking features for documenting observations and remarks;
real-time reports for progress monitoring and determining which students require more instruction; and
help features and virtual tours for administrative support and program instructions.
Teachers are provided with the following criteria for further analysis:
Errors Analysis: Why did the student make this error?
Meaning: The meaning of the text up to that point influenced the miscue (e.g., reading "puppies" instead of "dogs" in a story about dogs).
Structure: The syntax of the text up to that point influenced the miscue (e.g., reading a word that is the same part of speech as the correct word, so the miscue is structurally correct in the sentence).
Visual: Any part of of the printed word is visually similar to the miscue (e.g., reading "pen" instead of "pet").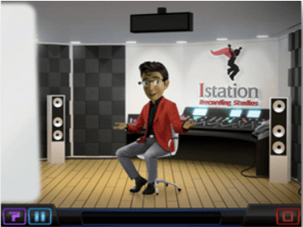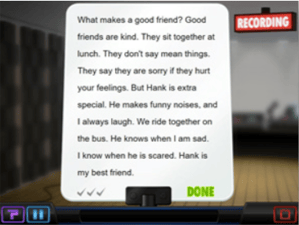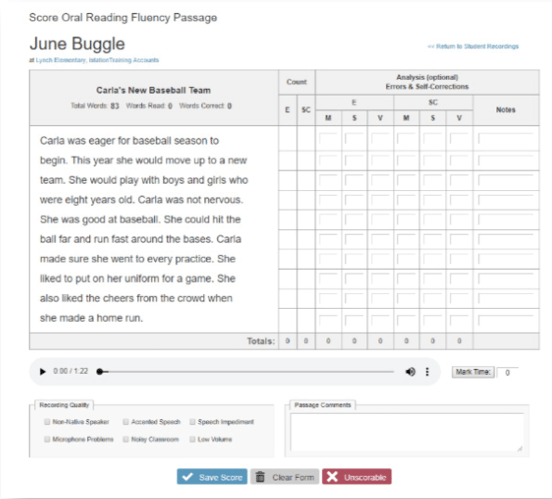 Example Oral Reading Fluency assessment chart for teachers' review