We are so pleased to announce that the ComputED Gazette recently awarded Istation three Best Educational Software Awards (BESSIE)! The program was chosen as the winner for Early Learning Reading, Early Elementary Reading Skills, and Multi-Level Reading Skills.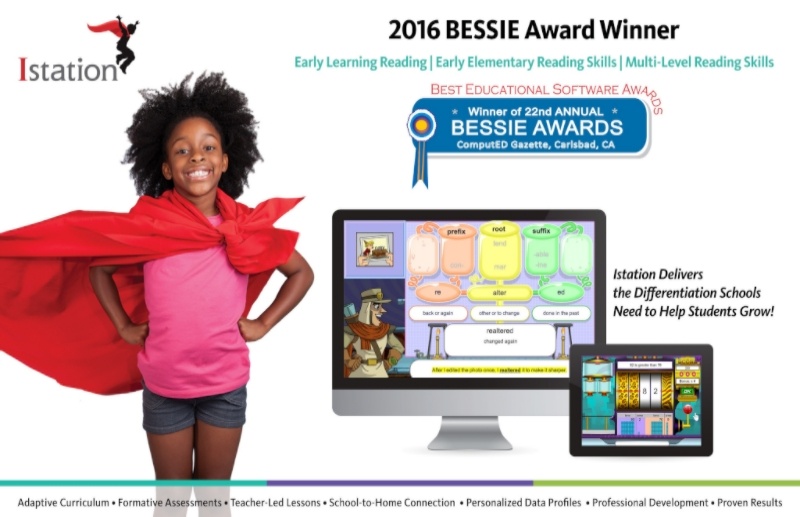 Now in their 22nd year, the ComputED Gazette's Best Educational Software Awards target innovative and content-rich programs and websites that provide parents and teachers with the technology to foster educational excellence. Submissions are judged on academic content, technical merit, subject approach and system management.
A ComputED Gazette review of Istation states, "Complying with state standards as well as Common Core, Istation uses a computer-adaptive test and ISIP (Istation's Indicators of Progress) to deliver content tailored to each individual student's skill level in the four critical domains of reading: Word Analysis, Fluency, Vocabulary, and Comprehension. Building on those skills, Istation provides three tiers of instruction and does so with engaging, compelling content and lots of guided practice — in a format even struggling readers and ELL students will find appealing."
The review continues, "Teachers will like the available resources which include directed lessons, bibliographies for each lesson, online interactive books and, best of all, student scores and placements which are completed immediately, freeing up more time for actual teaching. If improving reading skills is in your wheelhouse, you'll want to take a look at Istation."
Istation also received two BESSIE awards in 2015, one for Early Elementary Reading and another for Upper Elementary Advanced Reading.
Thank you ComputED Gazette for recognizing Istation!