Reading five books during summer vacation can help stop "The Summer Slide"
Research proves summer learning loss happens, but there is also research that proves it can be prevented.
Istation took part in a recent "Summer Reading Summit" in Hillsborough County, Florida. Much of the discussion centered around keeping kids interested in reading when they aren't being forced to read in school.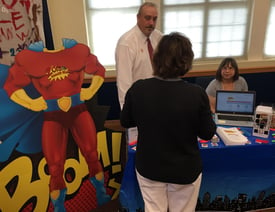 John Milburn, the Supervisor of Library and Media Services for kindergarten through 5th grade in Hillsborough County Public Schools, gave some good advice.
"I remind students that this is the time of year they finally get to read whatever they want to read. It's all their choice," he said.
Milburn quoted research conducted by Harvard, which shows reading just five books during the summer break can have a significant impact on keeping learning loss at bay. That means it only takes one book every couple of weeks to make a difference.
Like many schools and libraries across the country, Hillsborough County is using a hero theme for its summer reading programs. Milburn said he thinks allowing students to choose their books helps them stay enthused. He and his colleagues put together a list of suggested reading material for every grade in the district. Then they work with the public library system to ensure easy access to those free resources.