How Emergent Bilingual Students Develop Language
Children develop their schema from their guardians and surroundings. All the learning experiences between birth and age 4 or 5 create a neural network that serves as a foundation of knowledge. This is where any new learning needs to be connected.
Second-language acquisition is no exception. As children come to school with a home language, their existing schema lives in this language. In the particular case of emergent bilingual learners, research shows that children are very capable of learning more than one language simultaneously. A key approach in promoting second-language acquisition is creating a solid foundation in the student's native language while making connections to the second language, a process often referred to as metalinguistic connections.
Supporting students with high-quality digital instruction
At Istation, we provide research-based, computer-adaptive assessments and instruction for reading in both English and Spanish. The English program is built on the science of reading. The Spanish literacy program, Istation Lectura, provides authentic, culturally relevant content. Plus, our program is not a translation or a transadaptation; it is authentic literature based on research from Latin America that shows how students learn to read in Spanish.
Let's take a quick glimpse at Istation in action in the classroom: After a student takes the ISIP™ assessment and receives a score, they are routed into Istation's individualized instructional path that adapts to each student's ability level, providing differentiated and scaffolded instruction as they continue their reading journey.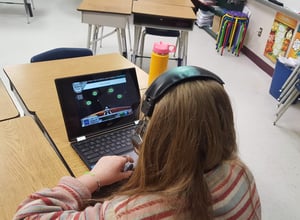 Student takes the ISIP assessment.
Teachers get real-time reports that identify students' areas of strength and areas of need. Plus, Istation provides teachers with scripted lessons that use the Gradual Release of Responsibility Framework to address student needs in whole-group, small-group, and one-to-one instructional settings.
Unique to Istation, the Classroom Summary report offers insight into biliteracy growth
This side-by-side report informs teachers on language acquisition and academic progress, helping them effectively address individual student needs and promote growth!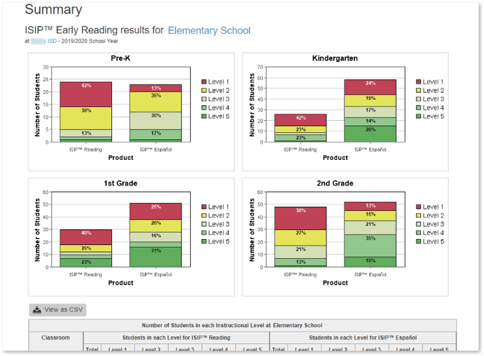 For more information on helping educators deliver more effective instruction and intervention for emergent bilingual students, watch our webinar "Achieving Literacy Goals: Empowering Educators to Support Emergent Bilinguals."