Andrea Rodich-Vitek, Instructional Coach at Manuel L. Real Elementary School in California, impressed us with her #RedCapeMoment contest submission about how her school is using Istation with fidelity.
Students at Manuel L. Real follow the 30-60-90 minute model for using Istation. If a student is ranked as performing in Tier 3, then they are required to use Istation more during the week and are pulled for small-group time with the teacher. The school's educators continually think of creative ways for students to get their minutes. Below is Rodich-Vitek's contest submission.
Tell us how Istation data has improved a classroom's or student's performance.
Istation has lowered our number of Tier 3 students and increased our Tier 1 students over the past two years. Each month, grade level teams look at data and complete a data analysis protocol to talk about successes and areas of need; teams make goals and so do students; we talk about best practices so that all students can be successful on the ISIP and in reading in general.
Teachers get together and talk about the tricks of the trade that help them succeed every day in the classroom. They go over grade-level strengths and weaknesses and talk about improvements. They also discuss skill-based intervention ideas so that teachers aren't stuck when it comes to working with a skill.
How do you motivate students to use Istation?
Our teachers carve out time during the school day, mostly during Universal Access time, to give students time to use Istation to meet their minutes. We also activate the parent portal and provide information for parents (our district is a 1:1 district, so all of our students have Chromebooks at home for grades 1-12). We have also provided incentives for students to use Chromebooks during Winter Break by hosting a hot cocoa party for students that had good usage on Istation during their vacation.
Also, each month we recognize one class by grade level that has shown the most growth from the previous month. We give them the "Red Cape Award" during our Flag Friday monthly whole-school assembly.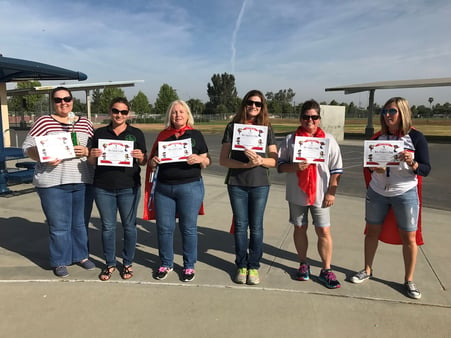 Grade level teachers receiving their "Red Cape Award" for May 2017.
How do you use Istation resources?
We use the Istation Progress Report to create flexible homogeneous groupings each month along with the Priority Report. Both reports indicate which skills the students need to focus on. Some teachers use the lessons provided through Istation, and some use the resources with our ELA adoption, Wonders. Our students use Istation for their cycle of learning throughout the month.
What kind of motivation do you see from students receiving the Red Cape Award?
I look at each each grade level score average from month to month and find the class that grew the most. The Red Cape Award is more about who is trying the hardest, not who has the highest score. Our school has a high ELL population of about 95 percent of our students. These students are most likely not reading at grade level in English. Upper grades do their own goal setting. We have celebrations for students reaching the Tier 1 level.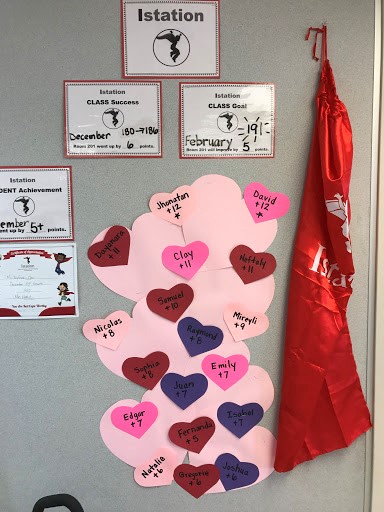 Displaying students' names and progress is one way teachers can celebrate individual student growth in their classrooms.
~~~
Congratulations to Manuel L. Real Elementary in Perris, California, for the fantastic submission and soaring #redcape moments! Stay tuned on social media for announcements about Istation's Usage with Fidelity contest, beginning January 2018.