When teachers were given the freedom to redesign their schedules, they made a giant shift in the culture at Meadowlark Elementary School in Liberal, Kansas!
The elementary school was chosen as one of seven schools to participate in the Kansans Can School Redesign Project from the Kansas State Department of Education. This project is what gave teachers at Meadowlark the opportunity to inspire a more positive and innovative learning environment for all of the students in their community.
What changed? What does a school day look like at Meadowlark today?
Teachers Set the Schedule
Students and teachers at Meadowlark call Mondays "MITEE ('Mighty') Mondays," which stands for Meadowlark Innovative Time Excites Everyone! This whole day is dedicated to passion projects, college prep, student agency, and community building.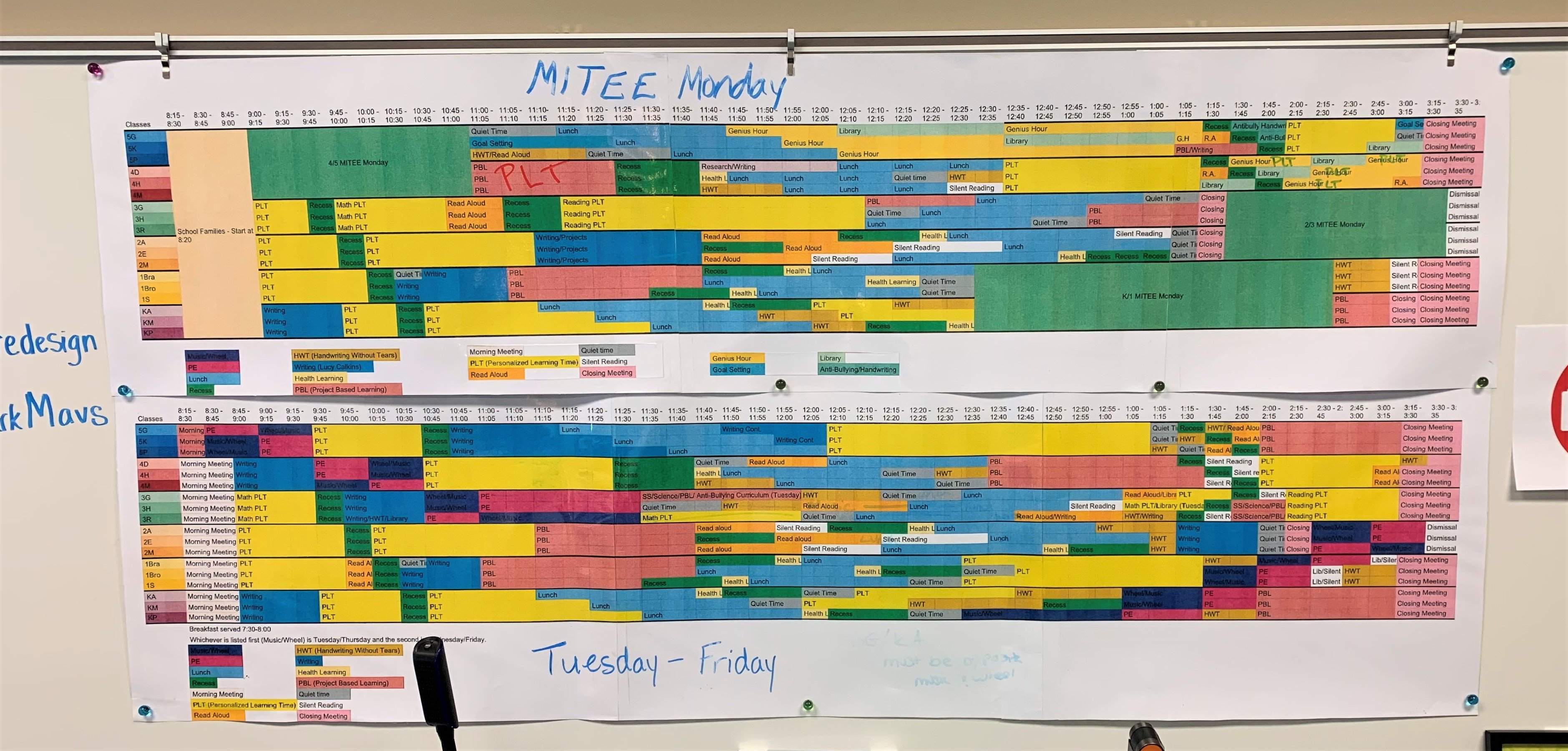 A look at Meadowlark Elementary's weekly schedule
The first day of each week starts with a school "family" meeting where each adult leads a small group of students from all different grade levels and ages in Share Time. Adults and students remain in their family group their whole time at Meadowlark, which could be from kindergarten through 5th grade.
MITEE Mondays offer a time for teachers to lead groups of students in mini college sessions of their choice. The topics are chosen by the teachers and based on expertise and passion. For example, one teacher may want to teach a cooking course, one may talk about journalism, and one may teach creativity building. The courses vary each semester, and students can choose which one they'd like to attend. The 5th graders at Meadowlark participate in a creative Genius Hour on Mondays.
The rest of the week looks a little different but still incorporates a ton of free choice for students, morning meetings as well as closing meetings, and small-group time with teachers.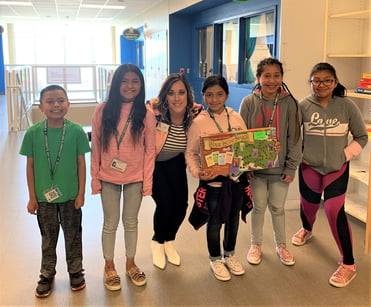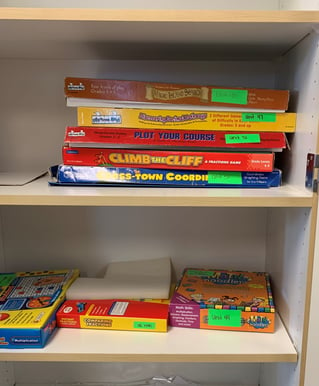 Meadowlark's 5th-grade students choose a game from the shelf that will help them in one skill area.
From Whole Group to Small Group
The school no longer conducts whole-group instruction time but utilizes teachers in every classroom to lead small groups. Teachers may lead a small-group lesson for students from different classrooms in the same grade level.
While some students are pulled for small-group time with the teacher, others will work at stations around the room. They choose what to work on each day from a list specific to their needs (as determined by Istation's assessment data). Students participate in tracking what they accomplish in stations each day and must work to complete the list by the end of each week.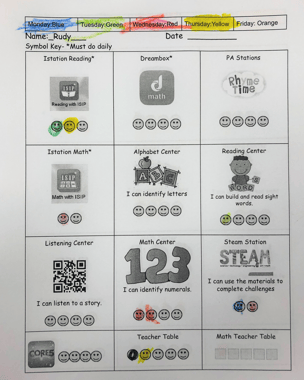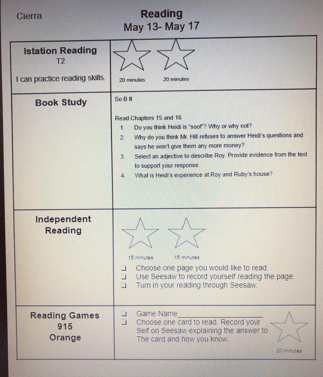 Istation Reading and Math are choices on Meadowlark students' station lists.
Focusing on Specific Student Needs
The school has about 370 students enrolled with 78.5 percent of them being non-native English speakers and 96.5 percent on free or reduced-price lunch. Before Istation there was a huge language barrier between teachers and students' parents, instructional coach Lyn Day said.
Day has witnessed how Istation makes a huge difference in helping the school overcome challenges. "Teachers are now able to meet the needs of every student from data provided by Istation," Day said.
Meadowlark's culture now centers around empowering the whole community in many ways. Teachers work together during a common, protected collaboration time where they break down Istation data and group students based on needs. Parents are more involved since they have been trained in reading and understanding Istation data that is sent home. Students in all grade levels (K-5) lead parent-teacher conferences and tell their parents how they are doing in class.
Day said she had a student in her building who was nonverbal and unable to show teachers what he was learning. Teachers used Istation's assessment to help screen what he knew. With the help of Istation, he has proven that he knows much more than letter names and sounds and has given his teachers a baseline for helping him.
When Day asks students at Meadowlark what they like about Istation, they excitedly say that they get to work on things they need help with. They like being able to understand concepts and go back to older skills when needed.
Meadowlark is catching gaps in learning that they weren't able to see before. Motivation is high, parents are engaged, and teachers and coaches are happy.