Dan Kuenster is Istation's Executive Vice President of Design and Animation. In 1998, he joined forces with a group of Dallas-based software engineers looking for a new way to teach kids to read. They needed a creative mind, and Dan's talent was incomparable. In Istation's early days, Dan commuted from Los Angeles so he could remain involved with the animation industry. He won an Emmy Award for outstanding individual achievement in storyboarding and then decided a permanent move to Dallas would allow him to focus full time on Istation. Dan, a native of Illinois, remains the creative force behind the characters, stories, and songs that make Istation fun for students and teachers.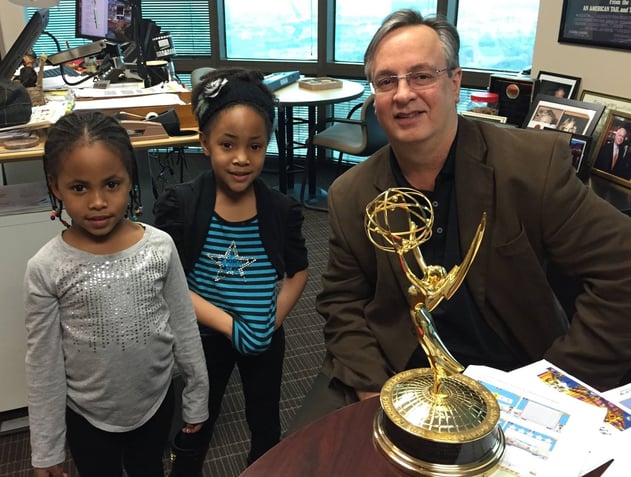 Istation has more than 400 hours of animated instruction, and you've been involved in designing it since the very beginning. Walk us through the creative process. Where does it all begin?
"It starts with a hook. You have to find the hook that's going to keep kids interested. For instance, in our newly released Istation Math program, our hook was a rock band going on tour on a bus. Everyone likes music, and who doesn't want to be in a band? So that's our hook.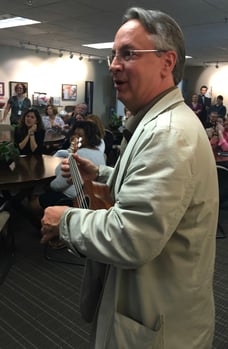 "Then our curriculum writers explain to me the standards, the concepts, and how they taught these skills in the classroom. We don't want to replicate exactly what teachers do in the classroom — we want to build upon it. So we have to take a creative twist, and that often involves music and stories.
"When the curriculum writers presented the concept of rote counting, we decided our band (Donnie and the Decimals as The Math Superstars) would have a stop in Texas and learn to count cattle. The idea of the band going on tour allows us to work in interdisciplinary skills like geography, history, and social studies. I work closely with a musician and our curriculum team to write songs, but I've been known to pick up the ukulele in my office and start strumming a tune if I have an initial idea. The creative process really starts with understanding what we're teaching, how we're going to do it, and what our hook is going to be. Coloring the pictures is the last thing I do."
How much has Istation changed since that original concept back in 1998?
"After I permanently moved to Dallas, intense collaboration with our curriculum team began. We'd sit in meetings, and I'd see what they wanted to accomplish. I'd say, 'How about this?' They were always receptive to the creativity. So that's when our stories and themes really began to take hold. Istation has really evolved into almost a variety show with dozens of different characters because we are dealing with a wide variety of students. One size definitely doesn't fit all here."
What kind of student were you? How does that influence the way you design lessons, create characters, and dream up storylines for Istation?
"I was bored as a student. I was a bright kid, but I wasn't engaged. So now I have the opportunity to help kids who are bored. Now we give them immediate purpose to learn something. For example, in Istation Math, you can help stop Pie Face from pelting a city with meatballs. While it's silliness, there's purpose, too. I'm constantly thinking about what I would have liked to do as a kid. And I'm a big believer that if we teach standards a child is struggling with in a fashion that's fun, they're going to get it. Tests are secondary to me."
What, in your opinion, makes Istation different?
"We do things that are more unique and less typical of what you'd see in traditional educational material. It's a fine line to match all the standards and still have fun. A lot of other companies might say we need to stay mainstream, but our Chairman and CEO Dick Collins wants us to be creative and have fun because he wants us to produce something that's different and stands out. So our characters and environments and situations are part of what makes us different.
"My goal is to take students out of the classroom. We virtually take them places they've never seen before, like the Great Barrier Reef or the Sonoran Desert. We have class out there. Istation is like an online field trip every day."