A little whimsy motivates students to do their best on Istation!
ISIP™ scores were flat. Students were unfocused. Teachers knew their kids could perform better, but they couldn't find a "hook" to keep them motivated. Sound familiar? Getting students excited and keeping them engaged are some of the biggest obstacles educators face. For one school, the Istation Fairy did the trick.
"[Students] would sometimes not really pay attention, not really try on the assessments. We needed an incentive to really get them to do their best and not just rush through," said Lane B., a 1st grade teacher at an elementary school in Clearwater, Florida.
So the 1st grade team bought a fairy costume and convinced the school's reading coach to take on an alter ego: the Istation Fairy.
Once a month, the Istation Fairy donned a tutu, tiara, and wings and visited classes to talk with students about their Istation usage and performance. Teachers say the key was convincing the students that someone was watching.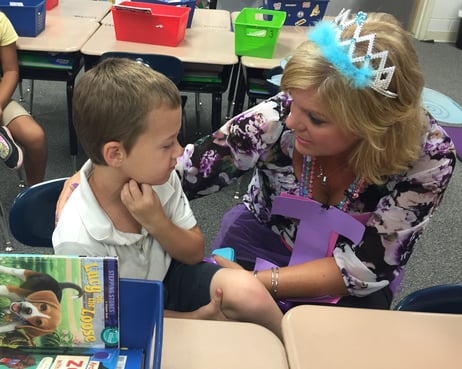 The video shows how a little bit of whimsy encouraged students to be more conscientious. Motivation went up and scores did, too — by the end of the year, one 1st grade class saw every student reading at grade level!
Learn more about the Istation Reading, Math and Spanish programs through these interactive eBrocures: