I had the pleasure of meeting Luz Roth, Texas's 2016 Bilingual Education Teacher of the Year, last month at Istation. She teaches 4th grade at Washington Elementary School in Sherman and has an infectious positive attitude.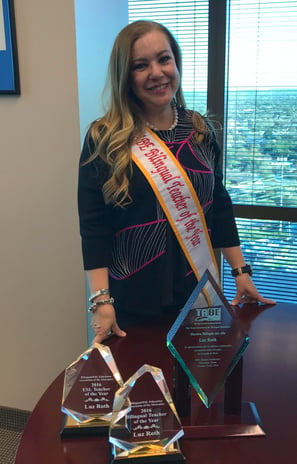 Students in Roth's classroom are bilingual learners and are motivated by their teacher's upbeat spirit. She values her role as a bilingual educator to help preserve students' culture while teaching them more about their new country and language.
Roth has been teaching at Washington Elementary for 20 years as a kindergarten teacher and now is a 4th grade teacher. She has been using Istation Reading en Español as a resource for her students.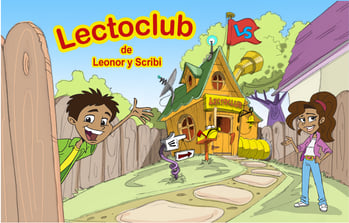 Istation en Español Instruction: "Lectoclub de Leonor y Scribi"
Roth is the type of person who jumps right in when trying new things. When Istation en Español was dropped into her hands, she started clicking around and exploring on her own. She wasn't afraid to try something new.
Istation en Español was a game changer for Roth and her kindergarteners. "Everything is in one spot," she told me. The program provides a progress-monitoring tool, data for grouping students by skill level, and reports to use for parent conferences. Roth also has been using Istation's teacher resources to create her classroom centers.
English-language learners (ELLs) in Roth's kindergarten class enjoyed a happy learning environment, and she made students laugh by giving them silly nicknames. Roth led class discussions about life's lessons with the class puppet, Juanito. The students loved Juanito so much that they brought him gifts on his birthday.
"Students enjoy being in Mrs. Roth's class," Washington Elementary Principal Amy Pesina said. "They know that she has high expectations for them, but they want to learn and become better students. They know that she genuinely cares about them and wants them to be successful."
By the end of 2013, Roth's kindergarteners had made great gains in their tier growth according to Istation's ISIP™ Lectura Temprana results.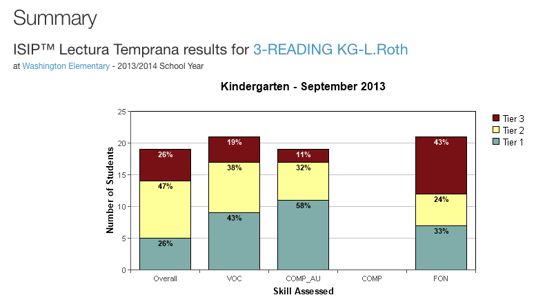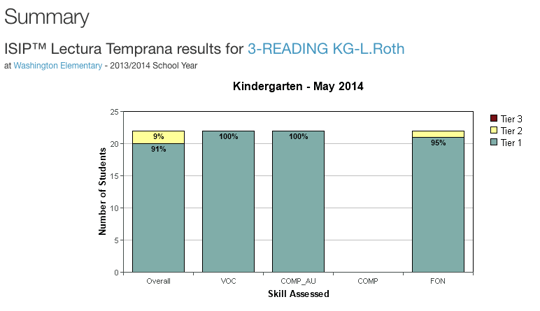 Want to know which approach speaks to your ELLs? Get Istation's FREE English learners e-book today! Click on the book cover below.