At Istation's Summer Conference this year, our Art Department surprised the rest of the organization with a fun new craft to represent our characters Justin Time and Paige Turner.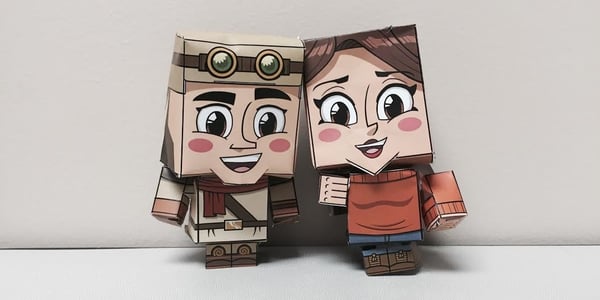 Anthony Coffey, Istation's lead 2D Animator and Illustrator, developed 3D printable and foldable crafts that can be cut and folded into the likeable heroes you see on the program everyday.
When asked what prompted the design of the craft, Anthony said, "I've always enjoyed being crafty and constructing things. These papercraft figures are an fun and easy idea for getting our characters off the monitors and into the real world."
I personally found the characters absolutely adorable. Before writing this post today, I spent the morning putting together the two figures you see above. I had a fun time practicing some fine motor skills and feeling like a kid again.
It's not the simplest craft I've ever done, but it is a rewarding one. For those of you interested in making one yourself, simply download the link to the printable file, here:
A few tips to make your craft more successful:
If possible, print on card stock.

If printing on regular printer paper, tape may be helpful to keep the pieces together.

If you do use tape, wait until the end of folding and slotting, so that you don't inadvertently cover any slits in the paper with tape (there are quite a few).

While kids will likely enjoy the craft too, adult supervision is recommended.
If you do decide to make one of the papercrafts, share it with us on Facebook or Twitter at @IstationEd.
Good luck and enjoy!