Students are people too. They have highs and lows, things that scare them, and hopes and dreams just like anyone else. Part of teaching is having emotional intelligence. Figuring out what your students love, why they think the way they do, and what can motivate them is imperative to engaging them in the learning process. The danger is in pretending to care about what they care about. If you come off as insincere, students will sense this and shut you out. This can lead to disengagement with the class as a whole. Never say you love something if you don't, but you can ask students why they love that thing. Ask sincere questions. Then use what you learn to guide your selection of stories, novels, activities, and more. Finding a personal connection to the content engages middle school learners.
This last one is the hardest. Learning to recognize your own biases takes critical self-evaluation, but it's crucial when working with students whose experiences greatly differ from yours. If you find yourself feeling a certain way about a student, stop and think about why. Try to empathize with that student. Talk to students to get to know them better. This can resolve conflict with disruptive students in the classroom, and it will make you a better teacher. If you start to notice your preconceived notions, you can then find ways to work on them and ways to overcome them.
Being authentic requires knowing yourself. Teachers spend a large portion of their time with students working to find their personal goals, their strengths and weaknesses. But how much time do teachers spend thinking about these things in their own lives? Removing bias in order to empathize with that difficult student in your fourth period class can change everything. That student can move from disruptive and disengaged to helpful and engaged purely based on how you interact with them.
How do I create authentic learning experiences?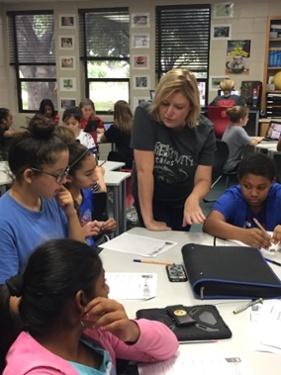 Every class has that one student who always asks, "Why?" Why are we reading this? Why do I have to write that? Why can't I sit over there? Creating authentic learning experiences is about answering the why.
Why are you having students read that book? Have you told them? Making the purpose explicit and relatable is key. One way to think about this is to put units into themes. Let's say you're reading The Absolutely True Diary of a Part-Time Indian by Sherman Alexie. That's a book that can tie into many themes. You could partner with the history teacher and carry a theme about life for Native Americans in the US. This would allow you to pull in cross-curricular activities and answer the why. Why read this? Because it's important to know the history of your country and to develop empathy for others.
Why are you having students write that essay? Maybe instead of framing an expository essay about the main character as just another essay, have students pretend they have been hired by a magazine to interview the character. This is their chance to write their article. Make the work matter to students by picking relevant topics and real-world activities and audiences. The key for making assignments authentic is to think of a real-world scenario that might result in a similar activity. Begin by thinking about what you want students to take away and work backward from there. Think of it as a way to incorporate career readiness and exposure.
So the next time you encounter someone who just can't understand how you handle working with middle schoolers for a living, you can explain that once you know the tricks of the trade, anything is possible! Keep it authentic to keep students engaged.
...
Learn the how-tos from educational leaders who have made tremendous middle school student literacy gains with powerful engagement techniques, essential reporting and assessment processes, and recommended teacher resources.
Watch the on-demand recording here.