Why Authentic Learning Experiences are Key
Authentic learning experiences are woven into our day as educators. We strive to make learning as meaningful as possible so students can take what they learn with them throughout their lives.
In part 2 of our blog series we will talk about how to create authentic learning experiences for the middle school learner. If you missed part 1, get tips for engaging middle school learners here.
Creating Authentic Learning Experiences for Middle School Learners
Have you had a student who always asks "Why?" Why are we reading this? Why do I have to write that? Why can't I sit over there?
This question holds a lot of weight and can be the key to unlocking something inside of a learner. Creating authentic learning experiences is about answering the why. Let these 4 steps help motivate learning in your middle school.
Step 1: Make the project or activity's purpose explicit.
It's important to directly explain to all students what you are doing that day and why. Middle school students are especially motivated when they know why they are doing something. This helps them focus on the task at hand and keep the end goal in mind.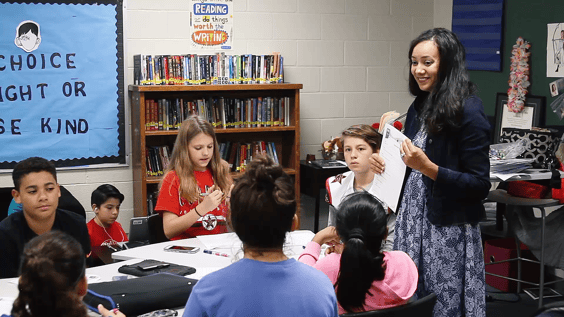 Step 2: Collaborate with other core classes to reinforce literacy skills and reading/writing across the curriculum.
Partnering with another core-subject teacher reinforces learning by linking two subjects together with one theme. For example, let's say you're reading The Absolutely True Diary of a Part-Time Indian by Sherman Alexie. That's a book that can tie into many themes. You could partner with the history teacher and carry a theme about life for Native Americans in the US. This would allow you to pull in cross-curricular activities and answer the why. Why are we reading this? Because it's important to know the history of our country and to develop empathy for others.
Step 3: Pick relatable, relevant topics for real-world activities and audiences.
Another step in creating authentic learning experiences is to link a real-world scenario with your classroom assignment or activity. Begin by thinking about what you want students to take away and work backward from there.
Ask yourself why you are having students write that essay? Instead of framing an expository essay about the main character as just another essay, have students pretend they have been hired by a magazine to interview the character. This is their chance to write an article.
Step 4: Incorporate college and career readiness skills.
Keeping middle school students engaged is key in preparing them for college and a career later on. You can never start too early in preparing learners for what's to come.
When you are presenting an activity or lesson to students, think about how students might use that skill in a future job. Encourage them to talk about further education they might be looking at and careers they find interesting.
Find tools like Istation's digital instruction for middle school students that expose learners to college and career readiness skills. With engaging, online tools students will be exposed to these skills without even knowing it. This will help take them far in their academic careers.
Use these steps to create authentic learning experiences in your middle school to keep students engaged all year long.