Principal for a day! And what a day it was!
As the country's nearly 90,000 principals mark National Principals Month, Istation's own Chief Operating Officer Ossa Fisher briefly stepped into the principal role at Alex Sanger Preparatory School as part of the Principal for a Day project. Sanger Prep is part of the Dallas Independent School District, the second largest district in Texas and the seventeenth largest in the United States.
In this special guest blog, Fisher shares her observations and discusses where she sees public education heading in 2023 and beyond.
…
I pull into campus just as the sun rises above the trees on a cool Dallas morning. The sky is turning a bright orange, and it's still quiet. Soon, the school will hum with over 600 hundred students, and teachers and administrators will begin the essential work of inspiring future doctors, social workers, authors, teachers, and others.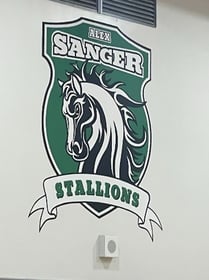 The quiet dawn soon gives way to the drumbeat of students flowing through the front hallway. Principal Hector Martinez, a 20-year veteran of education, pumps KIDZ BOP music through the school's speakers, and we fist-bump enthusiastic students as they begin the day.
Today, I'll take over the role from Principal Martinez — if only temporarily. With 10 years' experience as a teacher and assistant principal and 11 years as a principal for Dallas ISD, Martinez has lots of learnings to share. I'm eager to spend time with him and apply that knowledge in my own role at Istation as we continue to build world-class e-learning products to meet the unique needs of students like these at Sanger Prep.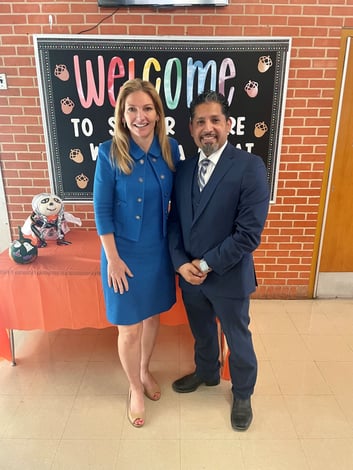 Istation's Ossa Fisher and Sanger Prep Principal Hector Martinez.
First stop: morning announcements. Five students greet us eagerly. One, though, appears glum. Principal Martinez offers an encouraging quip that prompts laughter, and everyone begins the announcements in a cheerful mood.
I'm struck by the sophisticated digital infrastructure here. At Sanger Prep, each classroom activates a digital video link, and from the principal's office, we deliver the announcements to the entire school using a video call. Technology has enabled such huge leaps forward for schools since I was a young student!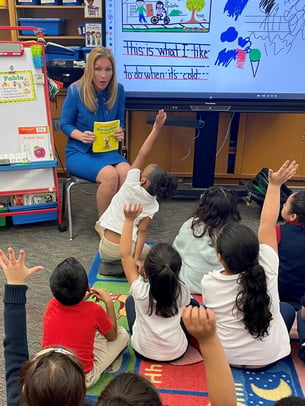 Next, Principal Martinez and I set off to visit classrooms. Grade by grade, I relive the joys of childhood: reading Curious George to a group of kindergartners, playing tag in gym class, learning a new musical instrument in music class.
Along the way, I hear Principal Martinez offer personalized, bite-sized coaching to each teacher ("Good job on this data wall," "I like how you framed the learning objective," and so on).
He reminds me how important it is to support educators — even by simply empowering them with a few kind words.
With national statistics showing burnout at an all-time high while educators abandon the profession in droves, Principal Martinez is doing his part to ensure that his team feels valued — before, between, and after the bells ring!
After several hours touring classrooms, we sit down in Principal Martinez's office and mull over heavy topics like accountability, parenting, and the changing landscape of education.
As my guest spot wraps up and I head back to my office at Istation, I feel energized. From the students' hopeful optimism to the teachers' steadfast dedication and Principal Martinez's strong, seasoned leadership at Sanger Prep — what a remarkable education I was privy to in these short hours! What did I learn as principal for a day? That the future of public education is unmistakably bright.