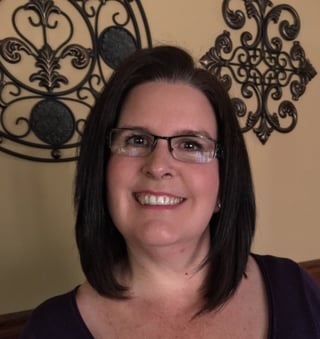 All teachers are busy, but even by that standard, Ms. Culbreth is busier than most. Teaching at Thompsonville C.U.S.D 174, a K-12 Title I school in southern Illinois, Ms. Culbreth serves every student in grades K through 8. She also teaches reading to 7th and 8th grade students and has — at least for this year — taken on yet further duties needed to support the school.
Settled in a rural town too small even for a library, the school acts as the heart of the community for many. It's clear Ms. Culbreth takes her role in this community seriously. She speaks about her connections with her colleagues and students with sincerity and endearment. "I have a really good relationship with all of the students and the teachers. Because I work with the students year after year, there is a trust and respect that develops between us."
It is through this long-term relationship that Ms. Culbreth is able to help students set and achieve lofty goals. Despite the challenges of working in such a rural area, Ms. Culbreth sees no reason to lower the bar. She states, "I set high expectations. I think that's important. I have 7th and 8th grade students reaching the Lexile® levels designated for high school seniors, and Istation is helping us achieve those goals."
When asked to elaborate, Ms. Culbreth explains, "Istation makes me a better teacher. I truly believe that. It helps me meet the individual needs of my students." Ms. Culbreth went on to say that the specificity of the data generated by Istation shows exactly where a student is struggling. "I can then give them a tutoring session or have a small-group intervention to meet their needs. I can work to help every student succeed based on where they are in the learning process. It truly individualizes learning for the student, but it also makes me a better teacher."
The school's implementation of Istation has also led to a daily practice for K through 5th grade called "Tier Time." During this time Tier 3 students work on individual interventions with Ms. Culbreth while one of the other two tier groups works with the homeroom teacher in small groups, and the last tier group spends time on the Istation program. Tier Time allows the teachers to accomplish three goals at once: individualized interventions, small-group instruction, and consistent Istation usage.
With this constant engagement cycle, the school is making the most of the Istation program and seeing positive results!