At the start of the school year, more than 70 percent of Sharpe Elementary School students read below their grade level. The administrators at this Tennessee school held higher expectations for the success of their students. Looking to increase student literacy by 60 percent, they turned to Istation for a path to improvement.
Sharpe Elementary began using Istation at the start of the school year for students in prekindergarten through 3rd grade. By November, the school had added Istation's Advanced Reading program for grades 4 and 5, thus beginning a powerful and exciting change.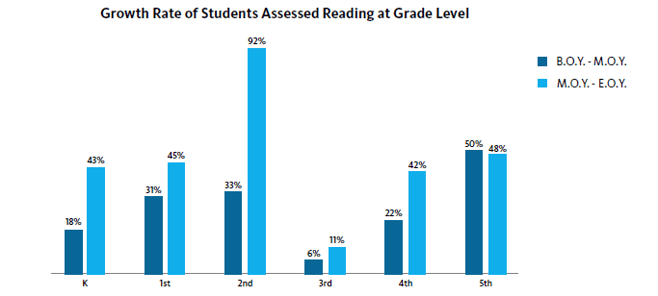 The campus embraced the program's potential by reporting weekly assessment data to all students and faculty, thereby enabling teachers to make informed decisions about instruction and helping students take ownership of their learning. Sharpe Elementary students know exactly what reading tier they are in and are eager to continue the Istation journey to improve their literacy scores.
Upon seeing Sharpe Elementary's success, other schools in the county followed its lead in using Istation's tools, including assessments, online interventions, and teacher resources. Students and teachers have honest conversations about student performance, and due to that transparency, the students' growth in Istation and in reading has skyrocketed.
Close the achievement gap with this FREE e-book Eight Steps Schools Can Take to Bridge the Gap.