Intervention in the classroom has evolved over time since it first entered the teacher's vocabulary in 2004. We can describe it as changing from an RTI "diet" to an MTSS "lifestyle."
We all know that long-term weight loss is never accomplished through a crash diet; similarly, academic improvement is never accomplished through a temporary fix. Real change happens when action toward improvement is ongoing. Benchmarking and progress monitoring should be a consistent part of teachers' and students' lives.
Over the years, Response to Intervention (RTI) has become a comprehensive "lifestyle" approach to student progress monitoring. In the beginning, RTI looked like the well-known Response-to-Intervention pyramid. This pyramid was divided into student tiers, and each tier received its own specialized intervention "diet." Later, this structure began to incorporate not only academic intervention practices, but also behavioral intervention practices that influence student academics.
As RTI grew even more in scope and depth, intervention and support started to further incorporate the diverse needs of students. The RTI pyramid morphed into a circle to represent ongoing student intervention, also known as Multi-Tiered System of Supports (MTSS). In addition, the behavioral aspects of intervention came to include cultural awareness, evidence-based practices, and a multilevel prevention system that incorporated things such as a school's community and MTSS technologies.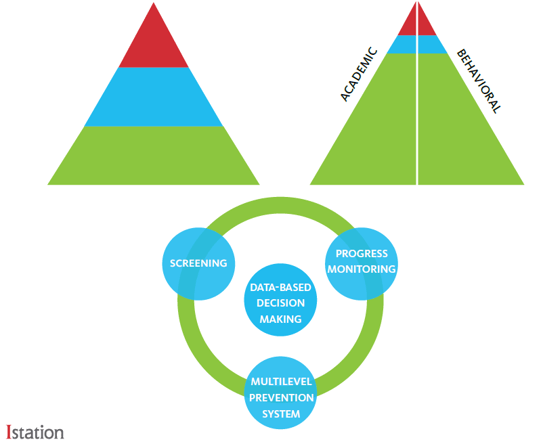 Want to know more about RTI/MTSS in your school? Stay tuned for more . . .
Click here to get the free e-book: