Robby Wilson, Principal of Bayles Elementary, has been using Catch Up & Read (CAR) in his school for the past five years. CAR is a reading intervention program targeting at-risk elementary students in grades 1 through 3 who are below their grade level in reading.
"Using Istation with CAR really matches what we do as a balanced literacy school. It fits with our rotation model so that students can work independently or with a teacher in a small group," Wilson said. Every morning at 8:20 AM, Bayles students all take part in school-wide RTI time where they work on Istation Reading in their classrooms.
Wilson is an advocate for Istation and makes customized professional development a priority for his teachers. If a teacher is new to Istation, beginner training topics would best benefit them. More advanced teachers can delve deeper into the program with Istation's professional development team.
"Istation is set apart from other programs out there because of the data and reporting it provides for my teachers," Wilson said.
Teachers at Bayles focus on using Istation consistently. "The most crucial part of CAR is the planning hour each week beforehand. Using Istation with fidelity makes the biggest impact during CAR sessions with the students (which take place on Wednesdays and Thursdays)," said Dolores Mills, the reading instructional coach.
Istation's Priority Report is used regularly to watch students' performance in specific areas. "Really being able to break down the data and see where a student is struggling or which questions take them the longest to answer is key in delivering the best intervention I can," said kindergarten teacher Leticia Nelson.
Although Nelson teaches kindergarten at Bayles Elementary, her CAR group consists of 1st graders. Students can experience different teaching styles when they meet with a new teacher for CAR, rather than the one they see regularly in their classrooms. This gives students the opportunity to hear the same lesson in a different way, she said.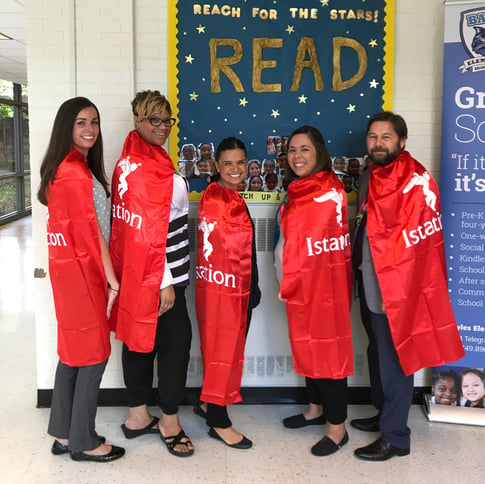 The teachers at Bayles assure me that students are positively impacted by their extra CAR time during the day. More confident learners are created through growth that starts small and spreads far.
Read the full report on Catch Up & Read's exciting results here: